We provide lockers to a huge variety of different sectors for a number of different uses. One of their most popular uses is in hospitals, providing safe and secure storage for staff members personal belongings and uniforms.
We recently provided and installed a range of our bestselling TUFF Lockers to St Peter's Hospital for use in their staff changing rooms. Take a look below at some images of the lockers after they were installed by our team.
See our range of TUFF Lockers here.
Reliable TUFF Lockers
TUFF Lockers are our bestselling range for a good reason. They are simple, effective and reliable. If you need a cost effective storage solution there's no better lockers to choose.
St Peter's Hospital opted for 3 compartments per locker. This allows for the user to comfortably store a large backpack, bag or clothing. They also upgraded the lockers with locker stands and numbered doors.
A locker stand (pictured above) helps raise the units off the ground. This allows for easier cleaning around the base of the lockers. This is an absolutely essential upgrade in a hospital environment.
Further improving their lockers, St Peter's added numbered doors and key fobs. This might not seem like much but it can be invaluable when you have a large number of staff members. It not only helps organise compartments but it also gives users a sense of ownership over their locker.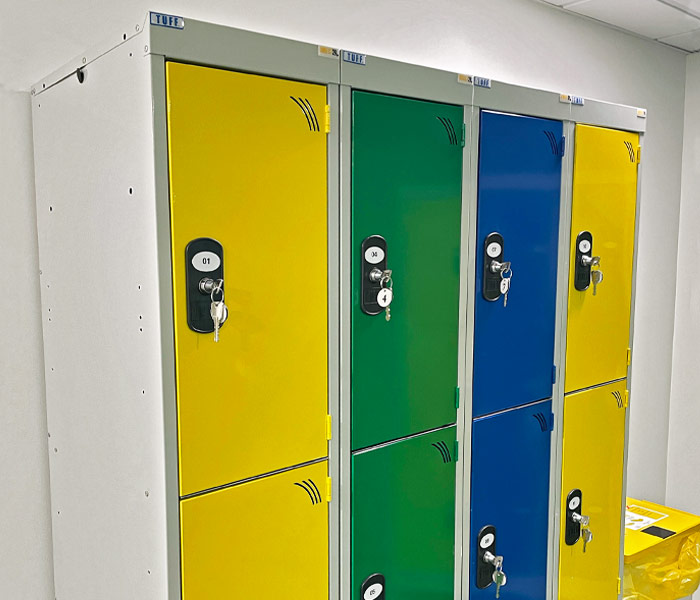 Need further information?
Our sales team are always ready to help you find the perfect lockers for your workplace. If you need any information about any of our lockers just get in touch!
Call us on 01922 715130
Email us: sales@direct2u.co.uk