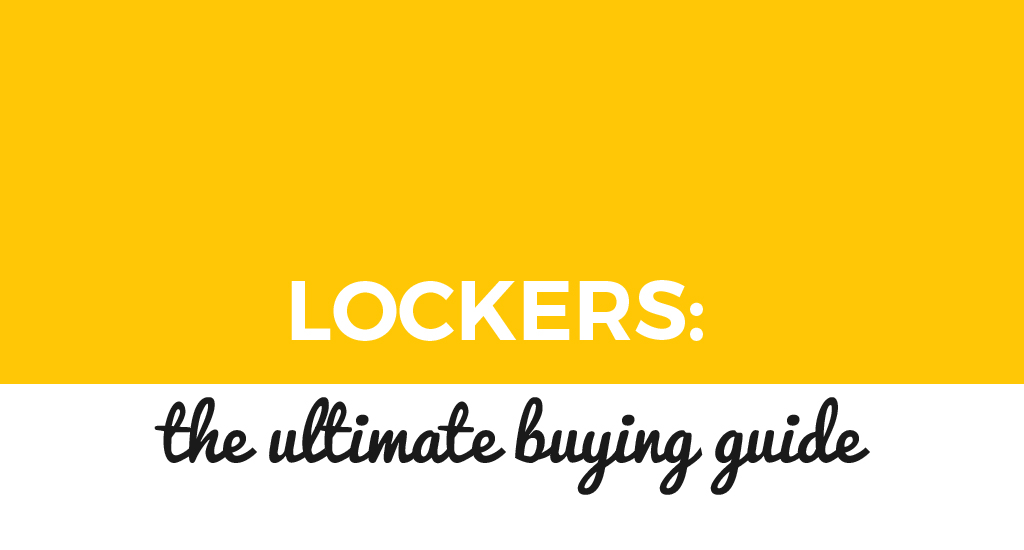 Are you thinking about or buying new locker for your organisation? A simple yet effective storage solution for single person use up to multi and public use.

Making the choice between our huge range of lockers can be difficult if you are unsure of what you need or want. This carefully complied ultimate guide to buying lockers will surely point you in the right direction.

There are 9 simple steps to read through before choosing your perfect storage solution:
Material?
Wet or Dry Area?
Cube, Low or High?
How Many Compartments?
Need to Charge Laptops?
What is Your Colour?
Security Type?
Do You Need Accessories?
Let's Work Together!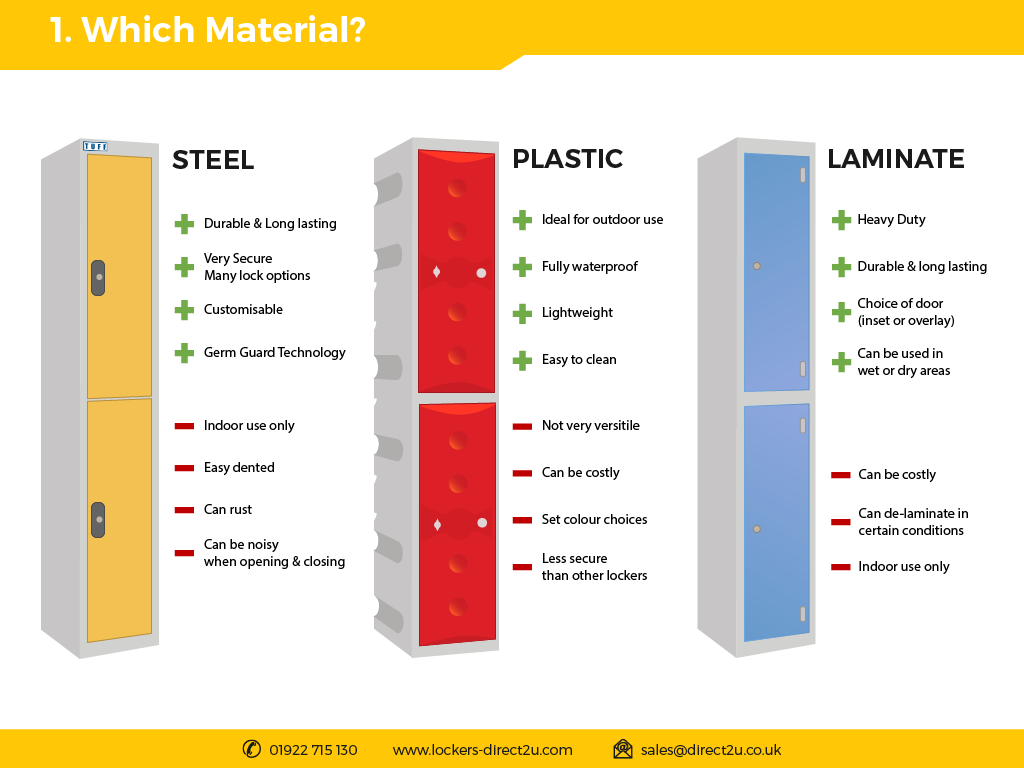 Where will your locker be situated? Plastic lockers are best suited to damp conditions out of the three choices and they are water-resistant. Whereas steel is best suited to the locker rooms in schools.

Metal lockers are a popular choice for many as they allow a great deal of flexibility for the customer in terms of: size, shape, colour and configuration. Direct2U's TUFF lockers also have Germ Guard Technology, which is an anti-bacterial quality in the powder coating of the lockers. This provides protection against many harmful bacteria's.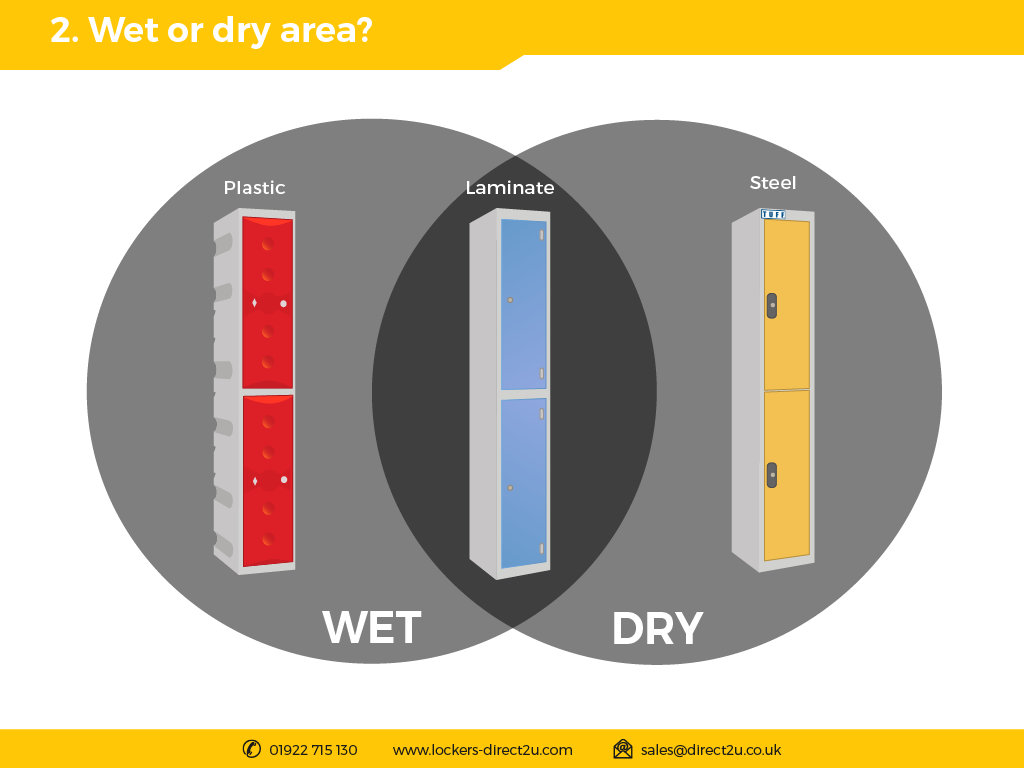 Steel lockers are best suited to dry environments and are the most common type of locker the reason being, the versatility and customisation of these lockers is vast. Alternatively, if your locker location gets wet; Plastic lockers are fully water proof and can even be used outside. Laminate lockers are ideal for those areas which are both wet and dry making them popular choice in high usage areas such as gym changing rooms.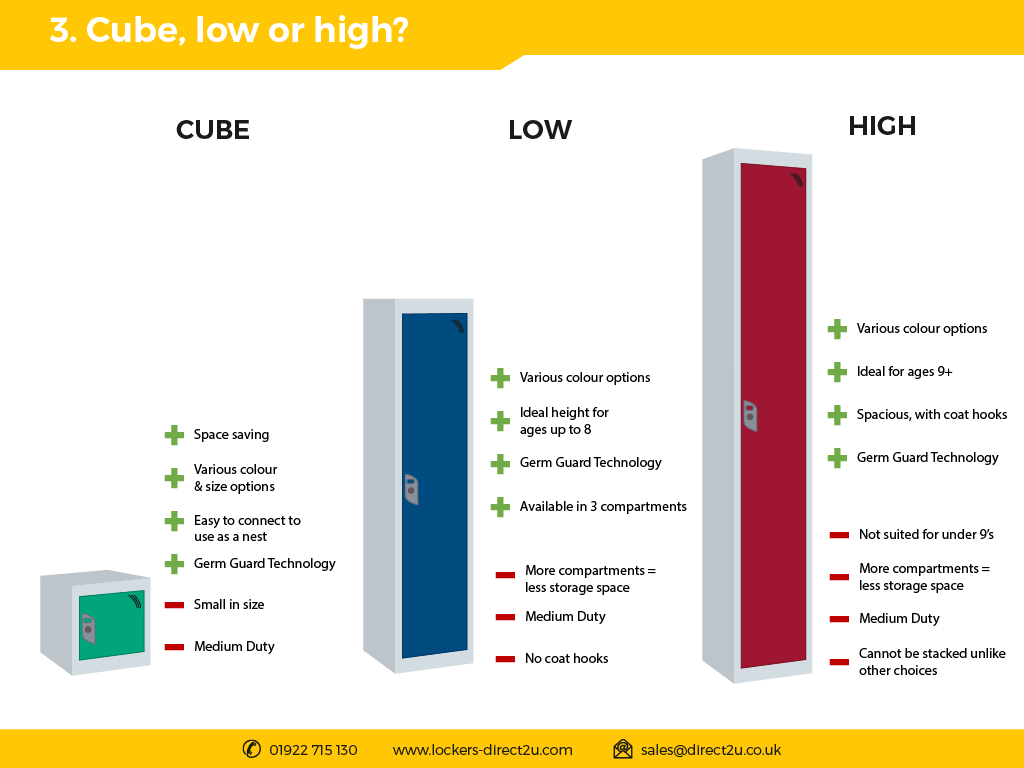 The first thing to consider is how much room is needed for each user. If this is a small bag then cube lockers are perfect, you can stack or arrange them however you would like.

High lockers are perfect for hanging coats and larger bags without taking up too much space. ¬-Providing you're not ordering a nest of lockers they will use vertical space rather than floor space.

Low lockers are ideal for school lockers and can be stacked to create additional storage space. These offer more space than a cube locker but are not ideal for hanging coats in (more then 2 compartments).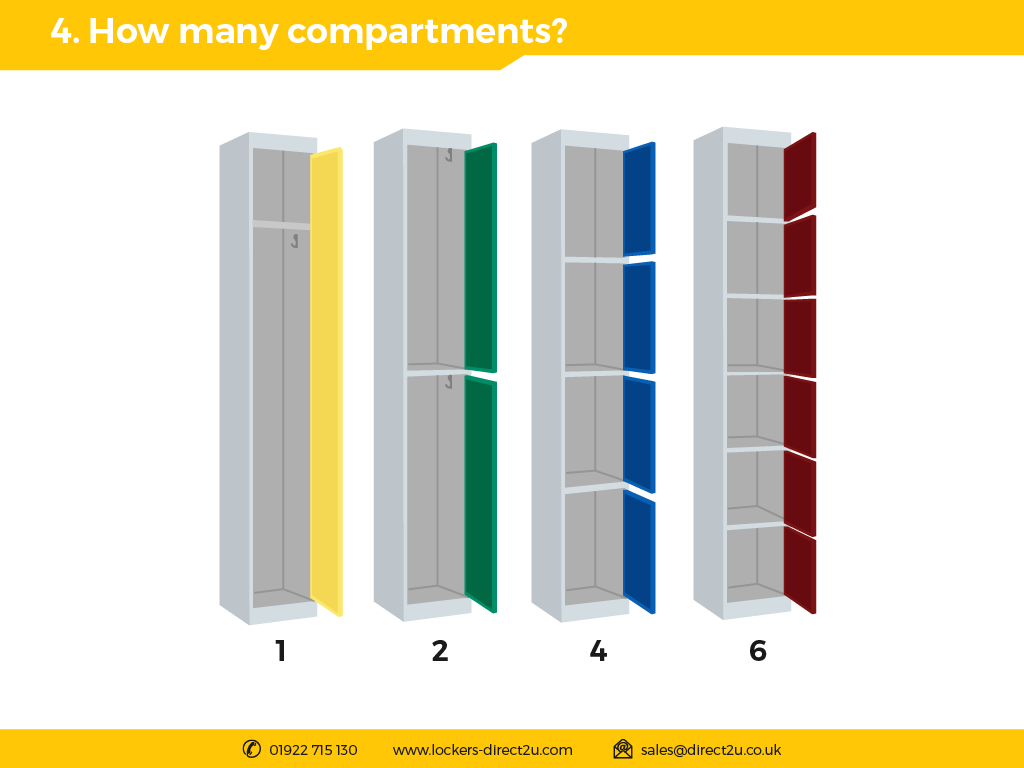 Usually there are 6 different compartment choices to choose from, the locker you choose will depend on how many users you have, how much space there is and the contents that will be stored in each compartment. 

You may decide on two compartments so users can hang their coats and place their bags into a locker; alternatively you may decide on 6 compartments so that users can store their personal effects.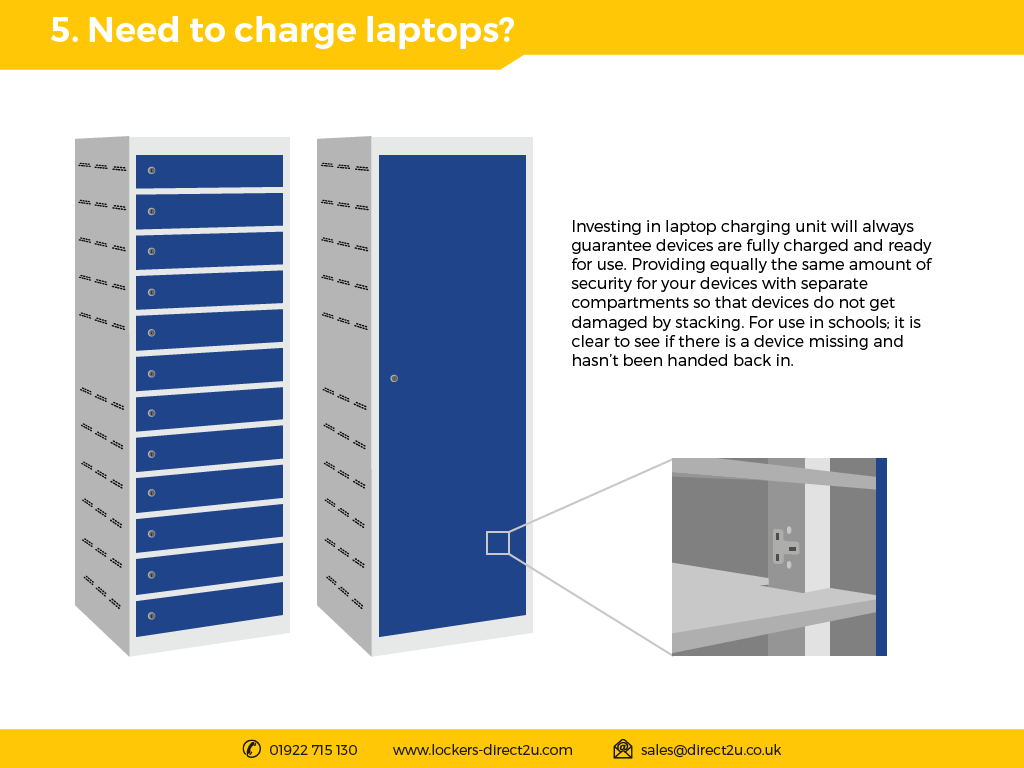 Investing in laptop charging unit will always guarantee devices are fully charged and ready for use. Providing equally the same amount of security for your devices with separate compartments so that devices do not get damaged by stacking. For use in schools; it is clear to see if there is a device missing and hasn't been handed back in.

Available with up to 15 tiers and in various colour options, they can be supplied with one main door or individual doors to ensure extra security.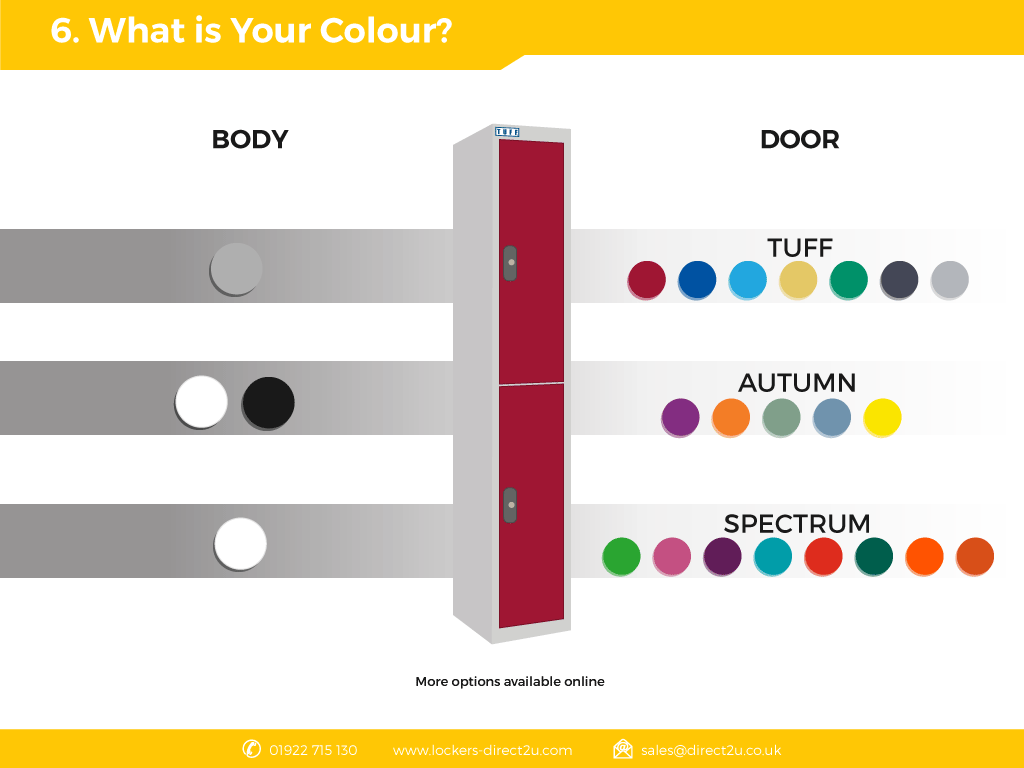 Body colours are available in white, silver and black however door colour is where personalisation shines through. You can purchase lockers to match your corporate colours, have a wall of colour or just to fit in with your office décor; the possibilities are endless.

Tuff range can be customised; by providing the RAL colour, Direct2U even assist with bespoke orders. Similarly, the Spectrum locker ranges showcases a huge variety of colours.
Cam Lock – Provides the user access via a small key
Hasp Lock – The user is required to use their own padlock to secure the locker, providing flexibility over allocation of lockers & lost keys
Combination Lock – Keyless entry available wiht or without a master override. This lock is available in manual or electronic form where the user has a key code to access the locker
Coin Return Lock – Allows the user to deposit a coin inside the lock to use the locker and when they return the key, their coin is also returned to them. This is proven to minimise key loss.
Coin Retain Lock – All the same features as the coin return lock however the locker provided keeps the coins, as payment for service.
The type of lock chosen is often controlled by it the locker's location; in offices combination locks are common where there is only one user to each locker. However; in sports centres and gyms coin return or retain is common as a result of multiple users per locker.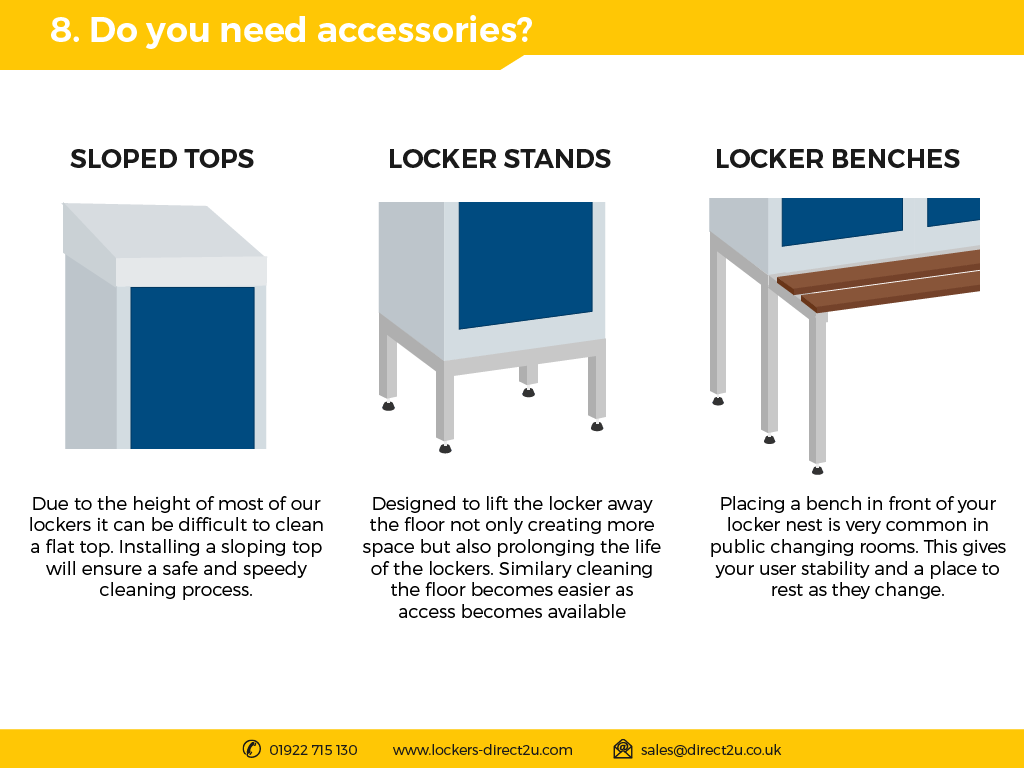 You have one more decision to make about your lockers; do you need any accessories? Accessories are not required for the completion of your locker BUT they may make life a little easier and create a more finished and professional look.

Here are some of your options:
Sloped Top – Converting the standard, flat top of a locker to a sloped, sleek top is less likely to collect as much dust. Due to the height of most lockers they can be difficult to clean so installing a sloping top can make cleaning much easier, quicker and safer.
Locker Stands – Designed to lift the locker away from the floor not only to create more space but also prolonging the life of the lockers and making floor cleaning easy.
Locker Benches – Placing a bench in front of your locker nest is very common in public changing rooms. This gives your user stability and a place to rest as they change.
If you have a large project or need bespoke products don't forget to make the most of our FREE site survey service. A member of the team will visit you to be able to recommend the best products to suit your requirements and space. The team can assist with planning, designing, options and purchasing; taking you from step one to completion without worry or stress! Contact a member of the team today to get started on your next project.