A key design trend in 2018 is wood. It's also been claimed that wood or wood effect can have a positive influence on health and well being in the home and workplace. The trend has arisen because of our day to day lives becoming overcrowded with technology. People have expressed a need to get closer to nature. Consequently, we are introducing more wood and greenery in our homes and work places to fulfil this desire.
First, let's take a look at this year's design trends and what's on the way in.
TREND 1: Rich, earthy tones
Think dark, natural colours. Browns, sage greens, rustic oranges and blues. These colours add depth to a room and are calming colours. As a side trend jewel colours are also in. So, you can brighten a room by adding emeralds, purples and brighter oranges as accents.
TREND 2: Dark woods
2018 is set to be the year where we see a turn away from pale wooden tones as the luxurious tones of dark wood become the new 'modern luxe'. Look out for Walnut, Rosewood and dark stains.
TREND 3: Texture
This is going to be huge this season. Why not achieve this trend in the office will wood effect laminate, which will add warmth without the cost. Create contrasting textures with exposed steel and wood. We recently experimented with this trend in our new boardroom. Paring solid oak tops for our boardroom tables with steel leg frames that have a clear lacquered finish exposing the weld. This has been a great success and show the steel work at it's best in it's natural form.
The real reason we all need to reconnect with nature
A study by FPInnovations in collaboration with the University of British Columbia made a connection between wood and human health. The study focused on the relationship between visual wood and the activation of the sympathetic nervous system (SNS), which is "responsible for the physiological stress responses in humans". They created four office environments: a non-wood control room, a non-wood room with greenery, a natural wood room and a natural wood room with greenery. They then measured stress of students inside each room via the activation of their SNS.
When the SNS is activated this can increase blood pressure and heart rate. It can also "inhibit digestion, recovery and repair functions in the body". Importantly, if long periods of time are spent in SNS this can have not only physical effects on the human body but also psychological effects.
The results showed that "SNS activation was lower in the wood room" at all time during the study. Therefore, the study came to the conclusion that the presence of visual wood in a indoor environment reduces SNS activation. Thus, reducing stress and creating a healthier environment, especially to work within.
The direct health benefits to nature they list in the study are:
Lower pain perception
Faster recovery
Fewer reported illnesses
Fewer sick days
Greater attention
Greater creativity
Lower aggression
Better interpersonal relations
Furthermore, in a similar way to indoor plants, wood helps to alleviate stress. Combine the two in the office and you are on your way to achieving a better well-being in the work place. This particularly resonates as 1st February 2018 is Time to Talk Day, on which date employees are encourages to talk openly about mental health and tackle the stigma unfortunately attached to it. Latest stats show that actually 1 in 4 UK workers are affected by Mental Health Conditions. Yet, when take a day off work due to stress or mental well-being give another reason to their employer.
The benefit of wood in the workplace extends beyond the individual. A happy worker is a productive worker. And this is good for business. Investing in the work environment will see returns on the bottom line. A study undertaken by architectural firm HOK found, amongst many other things, that sensory stimulation was key to productivity in the office. They suggest introducing texture in to the office in the form of natural materials to achieve this.
Easy ways to introduce wood into your office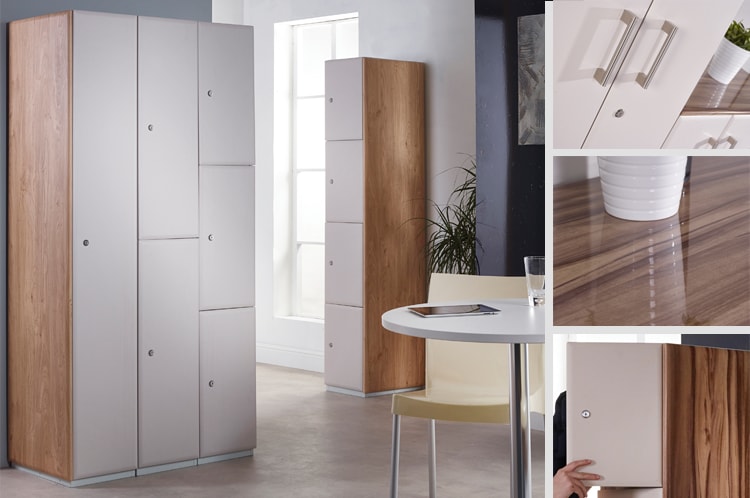 Storage – every office needs storage, right? Instead of opting for metal storage options or ones with a white finish browse the timber options. Items like Timber Lockers and cupboards are an easy way to add wood to the décor. If you're afraid too much wood may make your office look dark, go for a lighter finish for the doors and then teem with darker panels for the sides and worktops. Need some inspiration? Take a look at our Executive Lockers and Cupboards.
Artwork – here you can either go for natural artwork or simply invest in wooden frames. This is a quick option to quickly add natural elements to your office without breaking the bank. This is also a good option for the home. Ditch the minimalist white frames and go for darker wooden effect.
Partitioning – it's often popular to board up partitioning, however if you are segregating offices with a permanent structure think about leaving the wooden structure visible (a clear lacquer will help for the finish) and add glass partitioning. The glass will help keep spaces light and an open plan feel but maintain privacy.


Why do we use a wood 'effect' laminate? The answer is simple: cost and durability.
Natural wood can be very expensive and stretch your budget beyond realistic means. However, a laminate effect wood is a cost effective option that will help you to still achieve your desired result. Don't shy away from the word 'effect' remember most kitchens are made this way nowadays. The difference is minimal; and the foil wraps are such a good quality and finish in 2018 that you cannot tell the difference in most circumstances.
Natural wood also needs to be kept. Veneers will need to be maintained and this is not a practical option for cupboards or lockers that will be used day in day out.
Want your business to be on trend but not become outdated too soon? Then wood is the answer. It is Timeless.

Sources