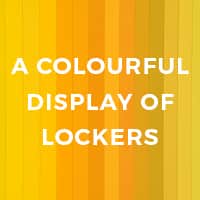 When asked to think of lockers, what do you see? Most often the image that will spring to mind is the boring run of tatty grey lockers from your secondary school days, most probably with the addition of some graffiti or stickers.
This doesn't need to be the image that future generations remember.
Lockers don't need to be dull and boring. Instead, they can be a great way to integrate colour into the workplace or school corridor for no extra cost. At Direct2U we never charge extra for the same locker in different colours.
Let's explore some of the colourful locker ranges available…
1. TUFF Lockers
The latest addition to the standard range, the TUFF locker has increasingly become a popular favourite. Not only do the lockers have an affordable price tag but they come in an attractive range of colour finishes. The colour offering will suit most corporate schemes and is set off with the modern and unique dark grey TUFF escutcheon plate. These lockers will look great in colourful combinations or as single runs of colours.
Door colours available: Dark Blue, Red, Light Blue, Yellow, Green, Dark Grey or Light Grey.
Key Features
Complete with security shelves and door stiffeners to prevent access and vandalism
Fitted with rust-inhibiting galvanised shelves which suits any type of contents
Powder coated finish with anti-bacterial paint that lasts life time of the locker
Cost effective storage option manufactured from high quality steel
Fire tested and certified to EN13501-1
UK Manufactured
FREE DELIVERY: 10 working days!
2. Probe ACTIVECOAT Lockers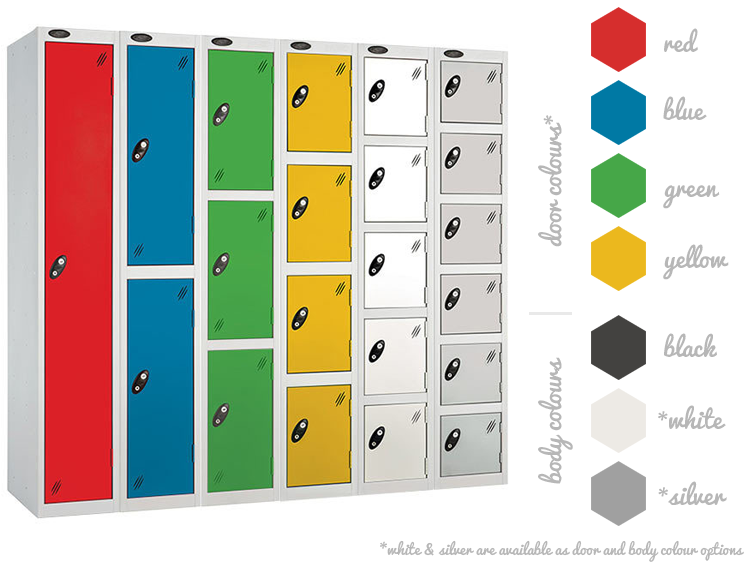 The Probe brand is known for its quality. Not only are their lockers attractive but they are also very affordable. For schools, offices, gyms and staff rooms you won't go wrong with these lockers. What's more within the last 12 months Probe have extended their colour offering to 6 door colours and 3 body (carcass colours), tripling the amount of combinations you can have.
The locker doors are available in 6 colour options including: Red, Blue, Green, Yellow, White and Light Grey. For the body colour you can choose from: Light Grey, White or Black. These options immediately change the look of the locker, therefore enhancing the number of colour options available.
The Probe ACTIVECOAT lockers are also one of the few ranges of lockers that are available in an all white finish. The white finish is ideal for first aid rooms and / or clean rooms.
Key Features
Probe lockers are known for their quality and affordable prices
Channel formed base prevents damage to floor covering
Fully welded doors with door stiffeners for greater strength
Probe Fire Zero Tested & Certified to EN 13501-1
Certified to BS 4680:1996 'Standard Duty'
UK Manufactured
3.Armour Standard Lockers
The Armour range of lockers offer quality and flexibility. They are approximate for a multitude of storage applications and will look the part in all environments. They not only offer flexibility in terms of the available sizes, number of doors, lock options and accessories. But also offer 7 door colour options to choose from.
Door Colour Options Include: Dark Blue, Red, Light Blue, Yellow, Green, Dark Grey and Light Grey.
Key Features
Galvanised security shelf and door stiffener deter theft and vandalism
Door have attractive ventilation grooves for superior airflow through the locker
Complete with rubber buffers on the doors to reduce daily wear and tear
Germ Guard anti-bacterial powder coating helps improve hygiene
Fire Guard Tested & Certified to EN13501-1
UK Manufactured
4. Probe Autumn Lockers
The Probe Autumn Lockers are available in a range of pastel hues including Lilac, Orange, Lemon, Jade and Ocean Blue. Like the Probe Activecoat Lockers they also come in 3 body colours (Silver, White and Black). The subtle use of colour offers an elegant finish which will suit most environments.
Key Features
5 Knuckle hinges and security bar are added to help prevent vandalism
Anti-bacterial powder coated finish for improved hygiene
Probe Fire Zero tested & certified to EN 13501-1
Certified to BS 4680:1996 'Standard Duty'
UK Manufactured
5. Spectrum Heavy Duty Lockers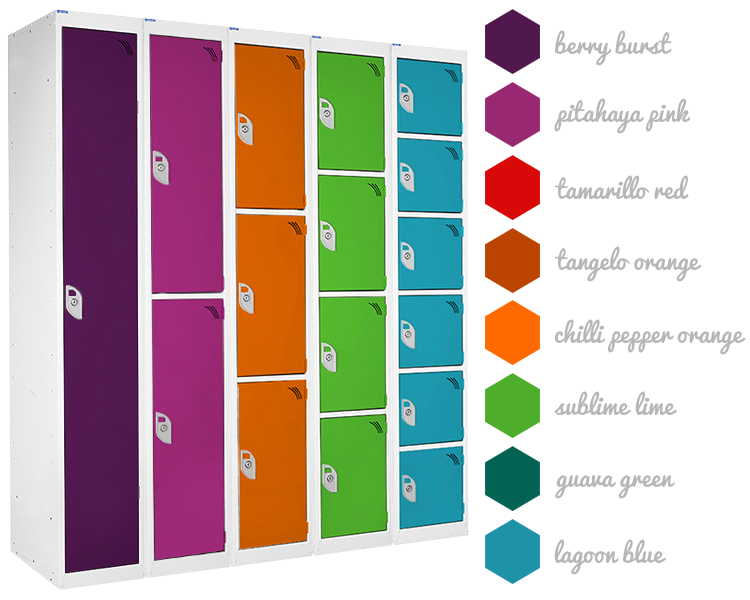 Our Spectrum Heavy Duty Lockers offer an exciting colourful twist on the standard locker. The vibrant colour pop creates a fun and cheerful environment. For a twist on a classic run of lockers choose complementary colours or a single colour. To be more playful choose from all the colours and position them in a pattern.
Key Features
Heavier duty construction from 0.7mm thick mild steel
Lateral security beam prevents access to compartment below
Hinges are 38mm deep for added security and durability
Fire Guard Tested & Certified to EN13501-1
Powder coated with Germ Guard Active Technology paint
5 Year Manufacturer's Guarantee
UK Manufactured
Due to the special range of colours there is a minimum order quantity of 20 lockers. If you would like more information about the minimum quantity, please call on 01922 715 130.
Can't find a locker in the colour you're looking for? That's no problem. For a large quantity of lockers we are able to offer bespoke colours and can match any RAL provided. If you are interested in this service, please get in touch with our Sales Team by calling 01922 715 130 or via email sales@direct2u.co.uk.