To someone who has been tasked with the job of buying lockers for their workplace/ office/ factory/ where ever, the world of lockers can be quite daunting. Aren't they all just the same? I hear you ask. The simple answer for this is no, they are not! Maybe it's because I spend everyday learning about lockers that I'm so enthusiastic but dare I say it, they can be quite fun!
On a tight budget?
Not that our lockers are expensive (they're actually the cheapest on the web) but like everything, some are cheaper than others. We understand that sometimes there is no fuss or special features required and a budget locker will do the job. Introducing our Budget Lockers range.
This range has been developed to prioritise price over any fancy features. These are what you'd call your bog standard, basic lockers.
• Economy Lockers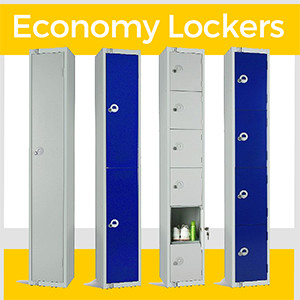 1800mm high, 300mm wide and either 300mm or 450mm deep. These lockers are robust and are manufactured with
reinforced doors with a welded frame for extra rigidity. Standard key lock (cam lock) fitted as standard – as with all our lockers. However, if you would like padlock locking please state in the order comments and we can arrange this for no extra cost. Padlocking is a good idea for staff lockers as staff members can bring their own padlocks and have responsibility for their won goods. Padlock option is also useful when multiple members of staff will be using the same locker and saves having to pass keys around etc. The carcass colour is standard light grey with the choice of either light grey doors or blue doors. Each unit is predrilled for nesting and is completed with anti-bacterial powder coated finish to help stop the spread of germs. With a starting price of £48 these lockers are an absolute steal and can be delivered to you in 10 working days.
Want something low cost but a bit fancier?
Our standard locker range features a whole host of lockers that are a fraction more expensive than our budget range, but are a whole lot fancier. With a bit more budget you can get a whole range of colours – great for staff lockers and workplaces where lockers will be visible to visitors. There are many lockers in this range so here's our top pick:
• Probe Autumn Lockers
These are high quality lockers ideal for not only offices but also schools, colleges and much more. Available in two depths: 300mm or 450mm, with a standard height of 1780mm and width of 300mm. Unlike most lockers, these lockers are available with either a smoke white, black and now also silver frame – much more interesting than the usual grey frame. The doors are also available in unique pastel colours: blue, green, orange, purple and yellow. The locking system as standard is cam lock (key lock) and can be changed to padlock at your request. All Probe lockers feature ActiveCoat anti-bacterial finish to help eliminate the spreading of germs for the lifetime of the locker.
Need storage quick time?
It's highly likely that when you realise you need staff lockers, you need them now. That's why here at Direct2U we have a quick ship range, created with the busy customer in mind. Whether you need the lockers tomorrow or by the end of the week we have a solution. Many of the coloured door and high tech lockers are made to order and have slightly longer lead times. If you can afford the time to wait, it's worth it. But, for those of you that can't, don't worry. Our quick ship range features high quality, sturdy lockers with a choice of 1, 2, 4 and 6 doors/ compartments depending on what storage staff will need. Similar to the budget range, our quick ship range are available in light grey and blue doors – now with the choice of red also.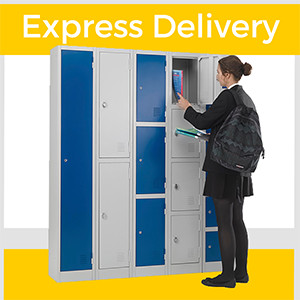 • Express Delivery Lockers – Next Day Delivery
One of our most popular products for the simple fact that you can have them delivered the very next day. In order to receive your lockers next working day please make sure your order before 12 midday – this is because we need to process the order and get them despatched to ensure they will get to you on time. The lockers themselves are 1800mm tall, 300mm wide and either 300mm or 450mm deep. Single compartment option is fitted with a coat hook and upper shelf as standard and the two compartment option has a coat hook per compartment. The doors have been strengthened, have rubber buffers and are ventilated – ideal for storing and airing work/ staff clothing. Particularly popular as staff lockers in offices and factories as employees can hang and leave garments such as PPE wear and hi-vis wear safely and securely whilst not at work.
Need storage for small personal items?
If you're limited on space or don't require large lockers our personal effects lockers might be the ones for you. Designed to store small personal items such as wallets, phones, keys etc these lockers are a popular choice for factories,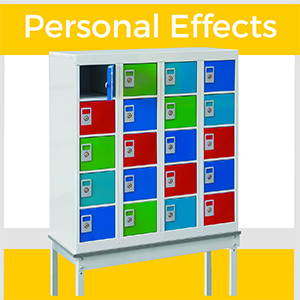 warehouses and retail environments. If staff aren't allowed mobile phones and other gadgets on them whilst working, provide them with somewhere safe and secure to store them.
• Personal Effects Lockers
This product is our best seller in this range thanks to its space saving and practical design. It's also a popular choice due to the next day delivery, 5 day delivery and standard delivery options. Choice of colour includes red, dark blue, grey, light blue, green and yellow. When purchasing multiple units it's good to order different colours so lockers can be 'zoned' for different departments e.g. shop floor use blue, customer services use yellow and so on. There is a choice of 4 different sizes and 3 numbers of compartments; 20, 28 and 40.
Need somewhere to store and charge staff laptops?
We're all pretty tech savvy these days and a lot of companies rely on laptops and other devices to aid the day to day running of business. Where do you store staff laptops when not in use? If the answers 'in a cupboard' or 'on a desk' then you should think about having somewhere secure to store them. It's not only loss of a laptop if anything were to go missing, it's often also vital information and data stored on them that is lost too.
• Mobile Laptop Charging Locker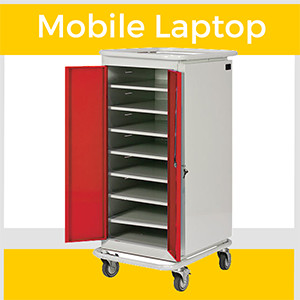 This handy unit is available in three sizes:
1. H 1200 x W 525 x D 670mm 2. H 1200 x W 525 x D 1220mm 3. H 1200 x W 1040 x D 660mm
Designed for easy transportation of laptops from one location to another – particularly useful for large offices. The wheels themselves feature a locking system for secure storage when not mobile. The compartment size is H 100 x W 375 x D 465mm which is the perfect size for storing one laptop. The locker also charges devices stored inside and each compartment has a 3 pin plug socket for use with mains lead. Grey frame as standard with a choice of red, light grey or blue doors. Compartments are ventilated to ensure regular temperature of devices whilst doors are shut and the unit itself has a rimmed top to allow for stable laptop placement.
Need staff lockers with high visibility and ventilation?
There are some workplaces such as warehouses and retail shops that require constant visibility of staff bags to ensure ultimate security. Like wise with ventilation, many places such as swim and surf schools need to secure goods away over night but also need to allow them to dry and ventilate to avoid mould. Choose from an array of compartment options including single to 40 compartments. All our wire mesh lockers can be ordered with or without doors. For this we have two suggestions: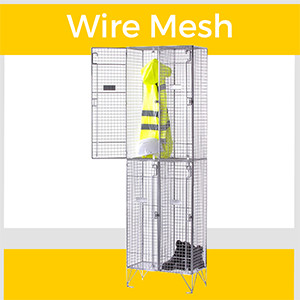 • Express Wire Mesh Lockers – Nest of Two
This is the ultimate high visibility and ventilation locker and it can be delivered to your door in 5 working days. This unit is available with 1, 2, 3, 4 or 6 compartments depending on size of goods needing to be stored. The locker is manufactured from 2.5mm x 25mm x 25mm welded mesh and has a 8mm thick sturdy rod frame. The legs of the locker are 160mm high to raise locker off floor and allow for all over ventilation. Unlike our other lockers, this unit comes with a padlock locking system per compartment as standard. For 1 and 2 compartment options, the locker has a 3 point locking system and for the other compartment configurations it has a single point locking system.
• Vision Lockers
Vision lockers provide safe storage for staff belongings whilst maintaining visibility. There are security shelves between lockers to ensure that there is no unauthorised access to compartment s above and below. This range is manufactured from sheet steel and is finished with a light grey, anti bacterial powder coating. Clear Perspex doors available in 2, 3, 4 or 6 compartments.
Looking for storage for work wear and more?
Our work wear locker range offers a host of different combinations for storing larger work clothing such as jackets, boots, helmets and more. This range is also ideal for those who store a change of clothes or multiple items in their staff locker. Most of the units in this range have been designed with one user in mind, meaning they tend to only have one door per locker.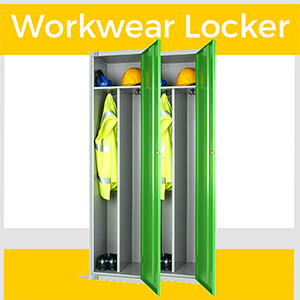 • Workwear Lockers
This product is our top pick from the range as it ticks all the boxes. It's low cost and practical. The dimensions are 1800mm high, 450mm deep and 450mm wide. The top and bottom of the unit is vented with air circulation holes and the unit also has semi-concealed, welded hinges. The components feature a polyester and anti-bacterial coating perfect for reducing the spread of germs. Each locker features an upper shelf and a partition down the centre of the locker for easy storage separation. Separating items is particularly useful in industries that require clean/ dirty clothing, multiple work wear options and for staff keeping uniforms at work. Colours available are yellow, maroon, red, grey, pastel blue, green and dark blue. This unit and the Emergency Services Lockers are popular with the police, fire brigade and factories.
• Duo Lockers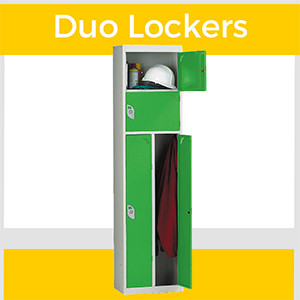 If you're looking for something similar to the above locker but don't have enough space to cater for one locker per user then the duo locker could be the perfect solution. The duo locker has been designed for use by two people. Unlike our standard 4 compartment lockers where the compartments are all of equal size – the duo locker has two tall and two wider compartments. This is so that two users can hang clothing etc whilst also being able to store headwear, bags and shoes in the top compartments. This locker is available in two different depths: 300mm or 450mm. The height of 1800mm and width of 300mm are as standard.
Looking for something high-end?
Wooden and wooden effect lockers are the smartest on the market. They ooze a sense of quality and expense in comparison to standard metal lockers. If you're planning on having your staff lockers visible and on show then it's worth investing in some that are going to reflect your business in a positive light.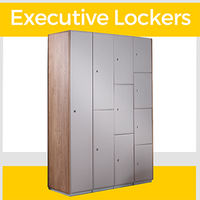 • Executive Lockers
Our Executive Lockers are a premium, high end product designed to smarten up any environment. The body of the lockers are steel to ensure maximum security, strength and lonjevity. The doors of the compartments feature soft close hinges for that ultimate premium finish. Each unit is predrilled ready for nesting – ideal for creating long rows and banks of lockers. Finishes available are Pearl White, Sand Beige, Kashmir and Grey Brown. The finishes are top quality foil wrapped facias. The colour of the locker body is defined by which end panel you choose, options include: Hacienda black, Walnut Gloss, Graphite Gloss and Winchester Oak.
——————————————————————————————————————————————————–
That's it for our staff locker guide. It's a very lengthy guide, we realise but we hope it helps in making the right decision for your needs. If you do happen (if it's even possible) to have any more questions, please live chat, call or email us and we'll be happy to help.