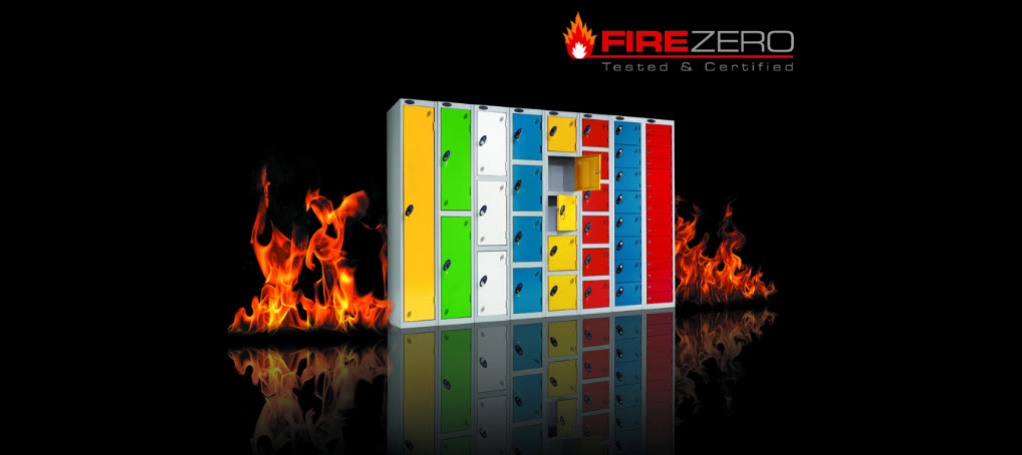 NEW: EU Standard Fire Proof Lockers
Probe are a famous and much loved favourite in the locker industry. Their ability to manufacture high quality, long lasting lockers whilst keeping prices low is what sets them apart from other manufacturers.
And now, they have outdone themselves again. All of the steel lockers branded Probe on our website are now Fire Zero tested and certified.
What does this mean?
To cut a long story short, it means that each of our Probe steel lockers are non-combustible meaning they won't burn during a fire. Although steel is not known for being highly combustible, Probe steel lockers are the only ones in the market to have been tested and certified to Fire Zero standards.
Currently, Probe steel lockers are the only brand to have achieved the title of being tested and approved within the European Standard – EN 13501-1: 2007 +A1 2009 in relation to fire performance.
To many of us this will just look like a bunch on random letters and numbers. However, this qualification is extremely important, particularly when lockers are being used in public places. Not only does this rating mean the lockers themselves don't burn, it also means they will not increase or sustain the spread of any fire within their proximity.
More technical nitty-gritty
• Probe Fire Zero steel lockers comply with the requirements laid out in Building Bulletin 100: Design for fire safety in schools
• Probe Fire Zero lockers are now the best and safest choice for use in corridors, changing rooms and circulation areas
• Fire Zero Probe lockers are the only lockers in the UK and Europe to have been awarded this important certification
Protect yourself and everyone else by choosing the ground breaking Fire Zero Probe Lockers.
Probe Fire Zero Lockers we offer:
Probe ACTIVECOAT Lockers

This product is currently our best seller due to it's low cost and anti-bacterial technology. The ActiveCoat range is perfect for schools, hospitals, gyms and more thanks to the variety of size and door combinations available. The locker units themselves have a channel base designed to protect floor coverings and all doors are fully welded with stiffeners which promises security. The anti-bacterial coating lasts the life of the locker and tests have found that there is a 99% reduction in the spreading of germs.
Probe Quarto Locker

Don't have a lot of space? Break the mould of conventional lockers and opt for lockers you can stack to create the dimensions you need. The units themselves have been designed for individual use and can be bolted together in blocks. Thanks to the compartments being tall, these lockers are ideal for storing school bags and handbags comfortably. Quarto lockers can also be used if you need an extra compartment on top of existing standard locker units as the compartment sizes compliment those of standard lockers.
Probe Cube Lockers

Similar to the Quarto locker, the cube units have been designed for stacking and nesting together in environments where space is limited or vertical lockers aren't appropriate. Probe cube lockers come in three different sizes: 305mm, 380mm and 460mm. These units also feature activecoat technology to stop the spread of germs in high traffic and educational environments. All lockers in this range are delivered pre-drilled for easy bolting and attaching together.
Probe Autumn Lockers

Like all Probe lockers, this range is manufactured here in the UK, guaranteed to be made with the highest quality materials and components. The high grade construction and finish of Probe lockers is well known world wide making them a popular choice in many applications. The Autumn range is special due to its unique colour offerings which include pastel shades of orange, blue, green, yellow and purple. Similar to the other standard Probe lockers, this range has built in channels formed at the base to help prevent any damage to the ground and flooring.
If you're buying for a school, office, staff or any other environment where you are responsible for others safety, don't take risks. Choose a brand you can trust. This Fire Zero technology is a ground breaking advancement for the locker industry and we are excited to see what more developments follow.