Meet the latest lockers on the scene: The Probe Minibox Lockers. True to their name, the lockers have small, neat compartments but are stacked full of potential.
They are Probe's latest take on the popular personal effect locker. These lockers are ideal for offering secure storage for smaller items such as phones, wallets, tablets, keys etc.
Where will you need personal effect lockers?
Personal effect lockers are a great option if you have a 'No Phone' policy on site. Places like schools, factories and hospitals where a phone can be a distraction and dangerous should invest in personal effect lockers.
Choosing high quality, secure and attractive lockers like the Minibox will help encourage kids, teachers and employees use them. The key is to provide somewhere secure which employees will access easily and quickly during their breaks.
Workplaces which commonly use personal effects lockers:
Schools
Factories
Warehouses
Hospitals
Hotels
Clubs
Probe Minibox lockers encourage you to be unique. They encourage you to be creative.
You don't have to just stick to the standard colours that we offer on the website. For your convenience, we have given you the choice of Red, Green, Blue or Yellow to buy on site (which suits most corporate colours). But you can be as creative as you like.
Therefore, you can use alternative colours to create a checker board effect or alternative rows of colours to create a stripe effect. If you are looking for purchase a high quantity of personal effects lockers, then you can also request bespoke colours. Finally, why not try matching the locker to your corporate colour scheme or your office décor?
Why Choose the Probe Minibox?
Well, while their contemporary design and ability to allow you to unleash your creative side with colour choices and patterns are up there with the top reasons to choose Probe. There are a few more especially relevant reasons to choose Probe.
Firstly, the Probe Minibox are available in two versions:
20 compartment locker (in order to stack requires Stacking Straps).
8 compartment locker with a slim 230mm depth that makes them ideal for wall mounting.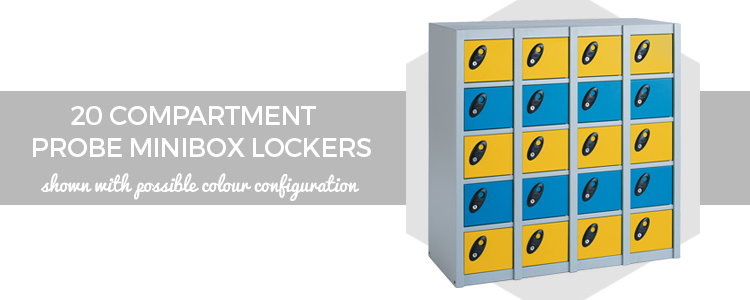 Secondly, both versions can be stacked to create larger banks of lockers and longer runs.
Key Features of the Probe Minibox
Body of lockers is manufactured from 0.7mm gauge high quality steel
Doors and frames are manufactured from 0.9mm gauge steel
Fitted with standard cam locks that pass through the door and frame
Activecoat Technology powder coated finish
Concealed door hinges
Integral air vent system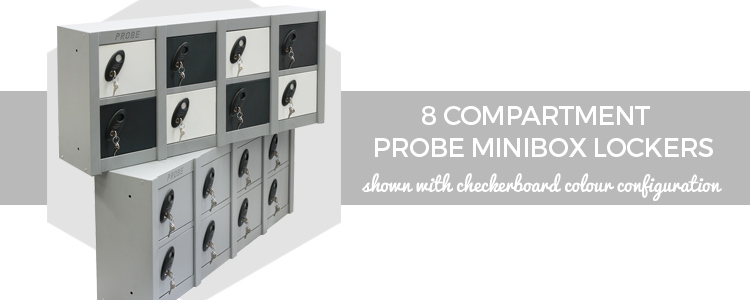 The Power of Activecoat Technology
You'll often see across our locker products that we mention anti-bacterial technology. The Probe Minibox are no different. They too have an Activecoat finish with will help combat germs and bacteria, preventing the spread and contamination of people / other items. The Activecoat finish is applied at the point of manufacture and will last the life time of the locker. It has three key elements:
Prevents growth of bacteria
Activecoat ions interrupt the Enzyme production – stopping the cell producing energy
Interrupts the cells DNA – preventing replication
Important Information

Probe Minibox lockers are Fire Zero Tested & Certified to EN 13501-1:2007 + A1:2009.
This certification ensures that the lockers will not contribute to the spread of a fire. It is essential that you purchase lockers with this certification if you are going to positioning them in corridors, offices or near to escape routes.
To find out more information read our latest blog on Fire Safety and Lockers here.
They also conform to BS 4680; 1996 excluding size specification (which is the required specification for clothes lockers).
In conclusion, Probe lockers are manufactured in the UK to the highest quality. You can be rest assured that the highest quality components are used during the manufacturing process. This will result in a strong construction and quality finish. The Minibox lockers will withstand the test of time. Therefore, this makes them an obvious choice for high traffic areas and environments where they will be exposed to lots of use (but might not be treated with the best care). As they will retain their finish and will keep your workplace looking smart.