We pride ourselves in providing a wide range of lockers for all your needs, all made from quality materials and fitting a long list of applications. Our steel lockers are amongst the most popular choices when it comes to quality lockers with great durability. And now, our steel lockers have been Fire-tested and certified, adding to their performance and meeting all safety requirements in schools, hospitals, and public premises. The European Standard EN 13501-1 is the currently the highest standard in fire performance, and our ranges are now certified under it!
Why is important to have fire-tested and certified lockers?
Lockers are usually lined against the wall and during the event of a fire, lockers that do not have this certification would catch fire and spread throughout corridors and walkways. Having Fire-Tested and Certified Lockers means that the lockers will not pose a danger to escape routes and should not add to the spread of a fire. If lockers do not have this certification, they could be a risk and a hazard.
Steel has a high melting point, which is 1370°C, which is 300 degrees above the maximum temperature of a room fire that has been burning for 4 hours. Since the fire brigade will be likely to arrive much sooner than that, it's safe to say that Steel Lockers can withstand fires that reach maximum fire temperatures! What makes our lockers fire-retardant is not just the steel component of the lockers, but the epoxy paint that coats them! This qualifies them as non-combustible, meaning they will not combust, increase, or sustain any fire!
At the end of the day, our fire-tested lockers could protect the contents of lockers but are primarily meant to permit the safe escape of all. They can help by halting the spread of fire long enough for the fire brigade to put the fire out.
According to the classification, products tested to EN 13501-1 are valid for use against walls and ceilings or free-standing. This means that you can use our lockers anywhere in the premises, along corridors and against room walls, at entrances or exits. However, be sure that your lockers don't block any doorways or narrow passageways!
Products we highly recommend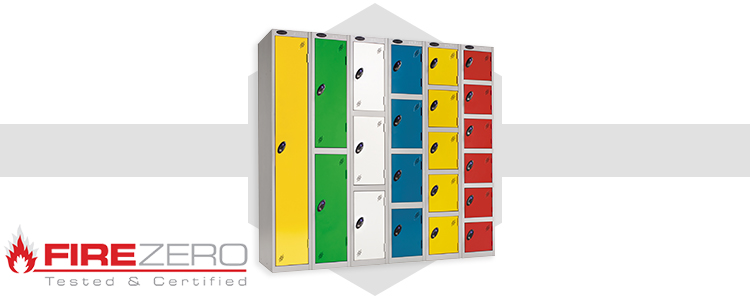 Probe ActiveCoat Lockers
Our best-seller due to its anti-bacterial technology and low cost, we recommend using these lockers in schools, hospitals, and gyms. Fire Zero Tested and certified to EN 13501-1: 2007 + A1:2009
---
Probe Autumn Lockers
Our colourful range with exciting colour combinations that are ideal for schools, colleges, and universities. Fire Zero Tested and certified to EN 13501-1: 2007 + A1:2009
---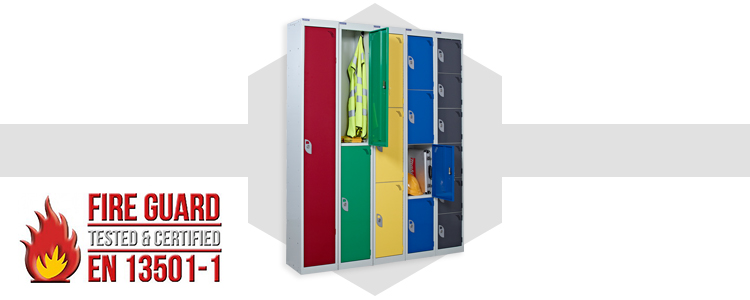 Armour Standard Lockers
You can adapt the height, width, and depth of our Armour Standard Lockers to suit individual needs. Fire Guard Tested and Certified to EN 13501-1. Reaction to Fire Classification A2-s2, d0 EN 13501-1:2007+A1:2009
---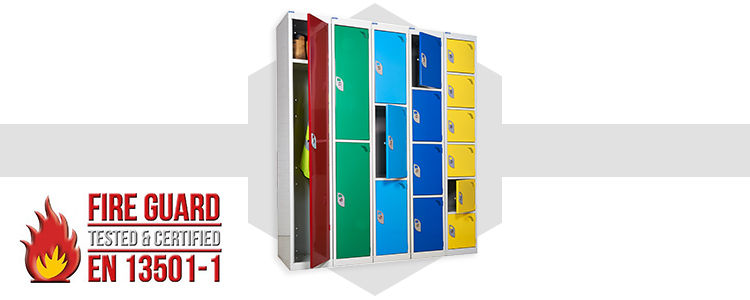 Premium Heavy Duty Lockers
Manufactured using a heavy gauge frame and reinforced doors, our Heavy Duty Lockers are ideal for added security and durability. Fire Guard Tested and Certified to EN 13501-1. Reaction to Fire Classification A2-s2, d0 EN 13501-1:2007+A1:2009
What to look out for while shopping for lockers
If you are buying for public premises, Fire Safety is necessary and everyone's responsibility. Make sure you are buying Fire-Tested and Certified Lockers and look out for these numbers:
Fire Guard Tested and Certified to EN 13501-1
Reaction to Fire Classification A2-s2, d0 EN 13501-1:2007+A1:2009
Identifying hazards and preventing fires
To reduce the risk of fires, the HSE recommends the following:
Carry out a fire safety risk assessment

Ensure good housekeeping, eg avoid build-up of rubbish that could burn

Consider how to detect fires and how to warn people quickly if they start, eg installing smoke alarms and fire alarms or bells 

Have the correct fire-fighting equipment for putting a fire out quickly

Keep fire exits and escape routes clearly marked and unobstructed at all times

Ensure your employees receive appropriate training on procedures they need to follow, including fire drills 

Review and update your risk assessment regularly

Have you found Evie the Elf yet?
Evie the Elf is currently hiding on the Direct2U Network and she's offering a 5% discount to anyone who finds the code on her dress! She's been dropping heavy hints that she could be hiding in the Wire Mesh Locker range… Simply add the code to your checkout for your Christmas Perk!
Last Post for Lockers
If you require delivery before Christmas, don't forget that the last day post for Free 5 Day Delivery is December 15 at midday! So be sure to check the Availability for your lockers before you order, so you can get them before Christmas! Any orders posted after December 15 will be delivered from the week commencing on Tuesday 3 January 2017. Happy shopping!