In a challenging 2020 for so many, we took the opportunity to develop some of our core ranges. One of which was our height adjustable workbench range. There's new products, new variations and a new layout to explain – so we thought we'd reveal all in this blog!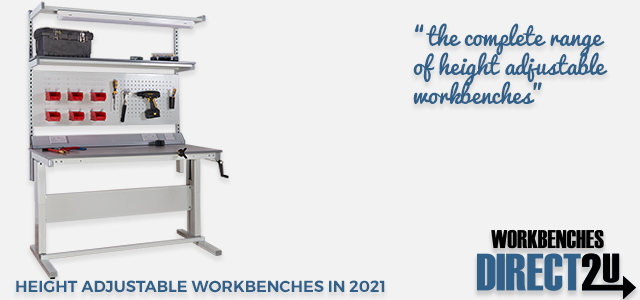 Height Adjustable Workbenches – What's New?
A great place to start is with our latest additions to the height adjustable workbenches range! We have two new products – the first is our Square Tube Height Settable Workbenches. This height adjustable workbench can adjust via leg inserts – from a range of 840 – 1060mm. An adaptation of our best selling Square Tube range, the Height Settable offers a load capacity of 500kg. We recommend this workbench for users who require infrequent height adjustments – due to the nature of manually adjusting leg inserts.
Our other new arrival is the TUFF Electric Height Adjustable Workbenches. TUFF is our exclusive brand which regular customers will be aware of! We try to offer TUFF as an affordable, high quality alternative in most of our ranges. The TUFF Electric Height Adjustable Workbench is no different – a high quality bench at an affordable price. Effortless to adjust via a flick of the button! Catering to a height range of 625 – 1275mm – the workbench has been made to make life easy for all. However, we'd recommend this height adjustable workbench mostly for light trade use. This is because electric adjustable items always have lower loading capacities for safety requirements.

We now have Three Different Types of Height Adjustable Workbenches
There's three different types of height adjustable workbenches in our range. Firstly, we have the height settable – adjustable via leg inserts. This requires the users to adjust all four legs using an Allen Key. Although it's a simple adjustment – we often recommend these workbenches for users who change height less frequently.
Secondly, the second type of adjustable workbenches we have are Hand Crank adjustments. Now, these are a bit easier for users to operate! Simply, users can adjust the height of the workbench by rotating the hand crank clockwise. A great example of these is with our Manual Height Adjustable Workbenches.
Finally, the third type of adjustment is of course the Electric height adjustable workbenches. As you can probably guess, their heights are simply operated via a push/flick of a button. Our high quality example of this is the Binary range. Binary are renowned for their quality in performance and appearance in the industry.

Accessorise your Workbenches to Suit
Being leading UK Workbench suppliers, we're confident we have the ultimate collection of workbench accessories for our customers. Our accessories range from "Above Workbench" to "Below Workbench" options, ergonomically designed to promote productivity.

Above workbench accessories such as lighting or louvre panels are chosen to create complete workstations. Plastic containers can clip on to louvre panels to help organise and separate small parts. This makes tasks much simpler and efficient for users. Similarly, independent lighting is of great benefit for detailed work in poorly-lit workshop areas. In addition, service ducts prove popular for users who require an electrical power source.
As well as above bench, we have a great choice of below workbench accessories. Naturally, these are storage variations. Customers have a choice of drawers and cupboard options to suit. On each product image – we've included a preview of what each workbench can look like. This should make it a bit easier to visualise! However, if you're still unsure simply speak to of our team before ordering.
Still have questions? If you need any assistance with your workbenches – please don't hesitate! Our team are available via Live Chat, Email or Phone Call and ready to help! Whether that's for general inquiries or perhaps bespoke items you require. Thanks for reading!