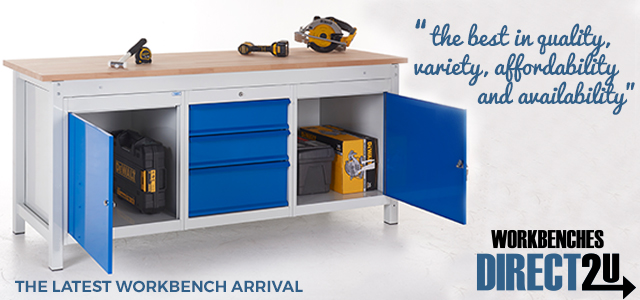 As always, we look to improve and develop our range of workbenches for our customers. But it's perhaps a new concept that we've redesigned one of our core ranges! Our TUFF Heavy Duty Workbenches have always been a popular pick with customers. However, our design team have found a way to transform the TUFF Heavy Duty collection to one of the best performers in the market.
What changes have we made?
So, what TUFF Heavy Duty Workbench changes have we made? Well firstly, we've DOUBLED the weight load capacity. Our previous weight load maximum was 200kg UDL. Where as now, the new workbenches have a 500kg UDL. This gives customers two things: assurance and an ability to optimise workbench use. An ability to use the workbench with heavier working items and an assurance that the bench will withstand the weight.
As well as strength improvements, TUFF Heavy Duty Workbenches will now be much more sturdy. The new design means that the storage options (cupboards, drawers) will now fit to the solid frame. Where as our previous design attached to the worktop. So performing heavy duty work on the worktop will no longer create a shake (or rattle) to the drawers and cupboards!
Finally – more variation! The new TUFF Workbenches are now available in 1400, 1600 and 2000mm widths. New sizes which will meet the popular size requirements our customers are after. Our variation continues with an additional Laminate worktop option. The laminate top will be 18mm thick, whilst the Beech will still be available with a 27mm thickness.
How quick can they be delivered?
As with all our TUFF range, we have these in stock and ready to go! Standard Delivery will be 3 working days. However we have Next Day Delivery AND Saturday Delivery available. So our customers could order on a Friday morning and have their workbench with them by Saturday!
Making our TUFF Workbenches the best in quality, variety, affordability and availability.
For more information on our Workbenches, feel free to pop up and speak to one of our friendly team on Live Chat! Or for more info regarding the spoken about workbenches, simply visit our site where we talk in detail about all our products.