As many of you may already know, the Vélo Birmingham & Midlands took place on Sunday May 12th. It's an intense 100 mile closed road cycling route. 17,000 riders go on a winding journey through the West Midlands. Along the way the riders passed through rolling countryside, picturesque villages and even travelled through the City of Culture 2021, Coventry. They were cheered on by thousands of residents, friends and family lining the streets.
Riding for The Alzheimer's Society
This year we had two members of the Direct2U Team taking part in the
Vélo. Our Business Manager, Greg, and Web Developer, Paul, decided to take on the challenge. They used the opportunity to raise money for charity along the way. Their chosen charity is the Alzheimer's Society. It's a wonderful organisation that offers advice and vital support to those who suffer from dementia and their loved ones.
After a few weeks of raising money, training and engaging the workplace in guessing what their finish time might be, the big day arrived on Sunday.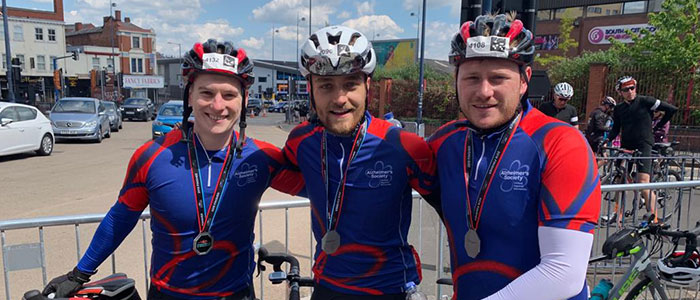 Luckily the weather was on the riders' side as they lined up for a 7am start. With members of the public, family and friends along the route to cheer them on, Paul and Greg made good time. Just three water breaks and one blown out tyre later, they crossed the line in just 5 hours and 47 minutes of ride time.
They have surpassed their donation goal of £1200 but are still collecting as we speak to try and raise as much as possible for the Alzheimer's Society . If you would like to contribute head over to the Just Giving page now!

These events are an excellent way of encouraging people to cycle. It's a great way of keeping fit and the ideal choice for commuters who want to reduce their carbon footprint! To make sure your place of work is equipped for cyclists visit our specialist Cycle Shelters website. Find all the stands, shelters and compounds you might need.