Why spend on matting maintenance? Well the short answer is: to reduce the amount of maintenance you must do elsewhere! Without effective matting at your building's entrance, visitors can cause significant damage to flooring surfaces. The damage caused to floorings and carpets from residual footwear dust, dirt and mud is permanent. Maintaining your mats can help you save money and time spent on maintaining the rest of the building!
There are other reasons why you should care about having well-maintained mats: budget, safety, function, and design. You might decide how to prioritise these, which will impact the cost of maintenance! Other factors will be matting material, weather, and number of visitors. Depending on these, we have compiled a list of most effective maintenance techniques for your needs.
Cleaning your mat regularly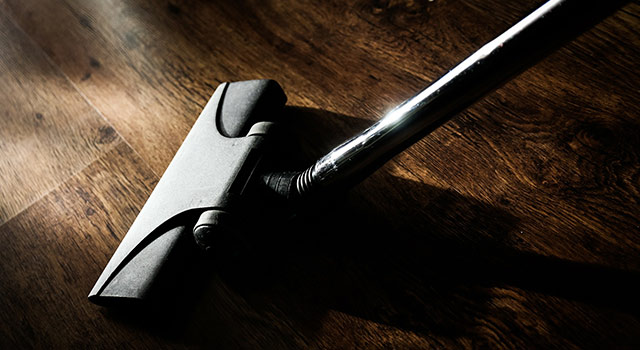 Carpet mats collect considerable dirt daily, invisible to the human eye. We recommend vacuuming daily for areas with a high amount of traffic, and every 2-3 days in lower traffic areas. If possible, invest in a professional vacuum cleaner with either a spinning brush or brush strip fitting for maximum effect. Most fibre surfaces require a moving brush to shake all the dirt off.
Sweep plastic or rubber mats daily or as needed. As these are usually placed outside and collect the bulk of debris and dirt, make sure they get the attention they deserve! Most outdoor mats have a 'fall-through' design to trap debris, so sweep under the mat to collect any residue. Shake and sweep any dirt out of fingertip mats and coir matting, this will get rid of most of the accumulated dirt.
If your mats accumulate soil or dirt, these particles are pushed deeper into the mat, crushing the fibres, and damaging the surface. Daily maintenance is a preventive method that will save you money overall. This is essential in preserving the appearance, product life and performance of mats!
Routine matting maintenance
Spills happen, but they don't have to permanently stain your mat! Make sure you absorb as much of the liquid as soon as possible using an absorbent cloth or paper towel. An all-purpose spot remover or a neutral cleaner followed by a good rinse is the most effective method to most stains.
Most stains such as coffee, food or human waste can be removed using a mild detergent or biological washing powder. Allow the chemical to sit for about 10 minutes, scrub with a brush and rinse thoroughly with a water spray, hose, or a pressure washer on the low setting. Rinsing ensures all the dirt extracted is washed away along with the chemical.
Do wash rubber and plastic mats regularly using hot water from a pressure washer or water hose. Avoid using harsh chemicals or solvents, and make sure to never use bleach or butyl-based degreasers! Brush, scrub and allow your mat to air-dry.
We recommend being careful with carpet shampoo, as shampoo residue attracts more dirt. If using carpet shampoo, make sure you don't use more than suggested, and to rinse your mat well! Remember, most matting are made to get wet, so give it a good rinse and let it dry well.
Depending on the stain, you might want to contact a professional carpet cleaning company. They will advise on the best removal product and technique, and a specialist will help you get your matting back to normal!
Drying your mats completely
We can't stress this enough: only a dry mat is a ready-to-work mat! Matting should trap dirt, debris as well as collect water from wet footwear. The British weather is unforgiving, so make sure you plan for the long months of rain. Before putting a mat back into service, make sure it is thoroughly dry and clean.
To dry your mat, always lay it flat in a well-ventilated and where possible, well-lit area. This will make sure your mats don't smell funny after staying wet for too long. Make sure Nylon mats can dry for longer and have a drainage area for excess water.
When moving mats, never fold them! Instead, roll them and take care to not damage the edges when moving. Where possible, we recommend having more than one mat for a single area, this allows for a good period of drying of each mat before use.
Hot water extraction technique
Deep cleaning using the hot water extraction method removes deeply embedded dirt and soil. The heat helps activate cleaning chemicals and is the best method for removing salt and difficult debris. It is the only method that can remove contaminants and chemical residue and is highly recommended in medical facilities for this reason.
A solution water and cleaning agent are sprayed onto the mat, then powerfully vacuumed. This is done using a commercial truck mounted stream extraction machine, and it is available from a variety of hire companies for hire or purchase. We recommend this method at least 4 times a year, and more frequently during the winter and rainy seasons.
Preparing your flooring for mats
Before placing your mat, we recommend cleaning your floors and removing any dirt, dust, or moisture. Sweep, vacuum, mop and then air-dry the surface. It should be free of sand, grit, or detergent residue. This will allow for maximum grip and stop any slipping or movement. If the floor is shiny, slippery, or carpeted, the mat should be secured.
Make sure your mat has a textured gripping underside backing. This will reduce any unwanted movement and will allow any moisture to escape, which is more hygienic and will prevent any smells. Outdoor mats should ideally be in a covered area, on a dry flat floor without any grit, sand, or gravel underneath.
If your mat has been rolled up for a long time, leave it unrolled and flat for a few hours before placing it in your entrance. This will ensure your entrance is free from tripping hazards. We recommend an entrance matting system with three zones and up to 6-7 metres of matting area.
Replacing worn and damaged mats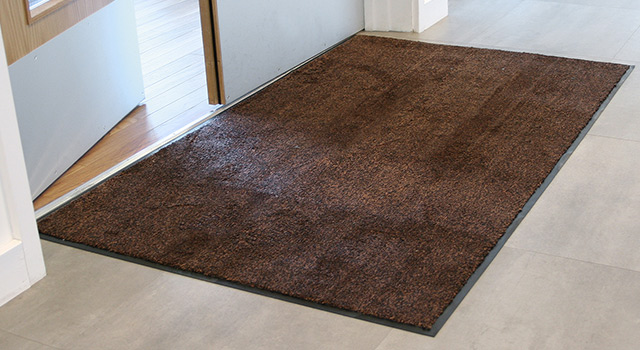 If properly maintained, your mat should last for several years. Check your mat's performance life with your supplier. This depends on the product type, quality, maintenance, traffic, and environment. Some mats will only last a year or two whereas some can go up to 10 years without being replaced.
You might need new matting if it isn't holding water or dirt anymore and looks worn out even after a deep clean. Remove mats with broken or damaged edges before they become a safety hazard and an accident occurs.
Sometimes a mat rental company might be the best solution if you notice your entrance mats need regularly replacing. However, assessing your entrance needs before investing in good matting might benefit you long-term.
Remember, you might invest in the best performing mat, but it will fall short of its effectiveness if not maintained properly. Check with your supplier how to best preserve your mat's longevity. Improper cleaning, handling and use of mats will shorten their life expectancy and may void your mat's warranty!
---
There isn't a UK-based guidance on maintaining your entrance mat, however you can purchase literature from the Carpet Cleaning Standard by the Institute of Inspection Cleaning and Restoration Certification (IICRC). They offer a wide range of reference guides for professional cleaning and restoration.
Most manufacturers and suppliers provide best practices and recommendations on how best to maintain your mat. Be sure to check if you have the correct equipment before you implement your cleaning schedule.
Matting Direct2U is an expert on anti-fatigue matting, workplace matting, flooring, and entrance matting. Give us a call at 01922 715130 or Live Chat to let us assist you in selecting the right products for you!