Here at Rubbermaid Direct2U, we understand that not every product will be bought to fulfil its intended use. So, we've decided to highlight the versatility of our best-selling utility waste solution: BRUTEs!
1. Black Round BRUTE
Composting is a cost-effective, organic process that decomposes your waste and turns it into fertiliser for plants. This is a great way to reduce the amount of waste you put into your wheelie bin, and help your garden at the same time.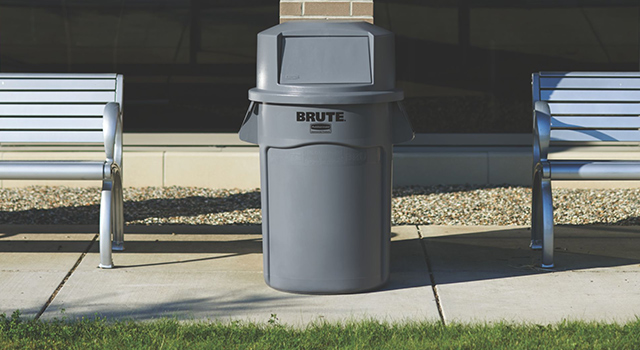 Black Round BRUTEs can be a discreet addition to your gardening arsenal. Simply carve the bottom out and install a mesh grid at the bottom. Place your BRUTE in a sunny area on bare soil. This promotes beneficial microbes and insects to gain access to your compost.
Mix equal amounts of greens and browns in your BRUTE regularly and cover it with a lid when not in use. The heat will speed up the decomposition process. You now have a compost bin that will resist the British weather and supply you with a steady amount of plant food throughout the year!
2. White Round BRUTE
The catering industry does not tolerate any non-conformance when it comes to food safety. Preventing cross-contamination is a top priority, and Rubbermaid has upgraded its best-selling BRUTE to improve food safety compliance. BRUTEs are now NSF-Compliant, which is the international Public Health & Safety Organisation. The White, Grey & Yellow versions are also LNE-certified to be Food Contact Compliant. They are also USDA Meat & Poultry Equipment Group listed and HACCP compliant.
This means that the Grey, White & Yellow BRUTEs can store anything from potatoes to meat, may it be dry or wet ingredients! It is the perfect big round containers to hold all your catering foods and ingredients. If baking, cooking or food preparation is your business, we think these heavy-duty containers can help you. They're extremely helpful in regulating your ingredient stock levels, too.
3. Low BRUTE Totes
This rectangular BRUTE tote box is made of commercial grade Polyethylene, and is nothing to scoff at! Reinforced ribbed base, drain holes in handles to reduce bacteria build-up, this is the heavy-duty tote that will rule them all.
And we think it's the best cat litter box you can find on the market. Think about it, the reinforced base will prevent it tipping over, the easy grip handles fight bacteria build-up, and the lid that comes with it can be placed at the base, preventing the litter box from touching the floor. Super hygienic, with unparalleled quality, and available in White or Grey (whichever Mr Whiskers prefers).
The BRUTE tote boxes come in 2 capacities: the 53L in 271mm high or 75.5L in 384mm high. We'd go with the lower capacity of the two, just to allow Mr Whiskeys some leg room while on his way to do his business. Or you could go with the higher one, for a bit of exercise or challenge.
4. BRUTE Rollout
Have you heard of wheelie bin racing? We hear of one every now and then, being in the wheelie bin business ourselves. Here is how it works: teams of up to 4 racers prep and modify a wheelie bin as they wish. The decorated bin is then put to the test with one of the racers sitting inside while the rest of the team pushes the wheelie bin to the finish line. A noble sport popularised throughout the UK. Well, we propose to raise the bar by suggesting heavy-duty alternative to the wheelie bin: a BRUTE Rollout.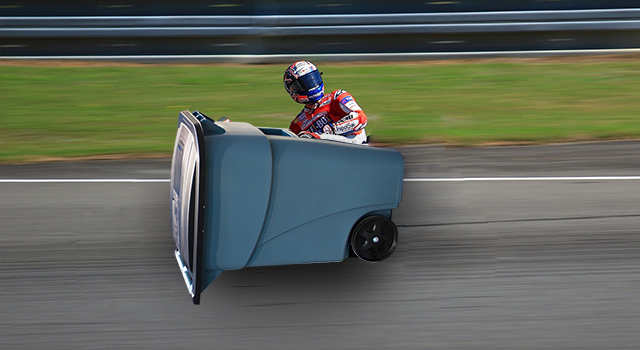 Heavy duty wheels to brave the road bumps, a sturdy axle retainer to steady the wheels, and an ergonomic rear handle, this bin was made for the race tracks! With a body of commercial-grade HDPE, it can maintain performances at extreme temperatures and is UV resistant. This, coupled with the fact that its smooth contours make cleaning easy, means that once the race is done, a BRUTE Rollout bin can still go back to being a top-notch waste container in the backyard!
5. High BRUTE Totes
The bigger version of the ideal cat litter box, the 75.5L BRUTE tote is 384mm high. Each tote comes with a tight-fitting lid, securing its contents. Fully stackable, the lid of each container hugs the base of the next container. When filled with tools or rocks, these BRUTE totes would hold their ground and be fully stable, even in a moving vehicle! So how else would we be able to use these boxes? Stack 555 of them and that would roughly be about the same height as the mighty Game of Thrones Ice Wall.
A WIRED article claimed it would be scientifically impossible for a 700 feet high ice wall to form naturally. We'd definitely request ditching the digital FX for once and hard sell our white BRUTE totes to producers. Might even save them a huge chunk of the budget as these boxes are super durable and reusable!
---
Rubbermaid Direct2U is a leading supplier of Rubbermaid products in the UK and is (usually) a (serious) specialist website providing the latest news & releases from Rubbermaid. Follow The Direct2U Network on Twitter for daily updates!
---