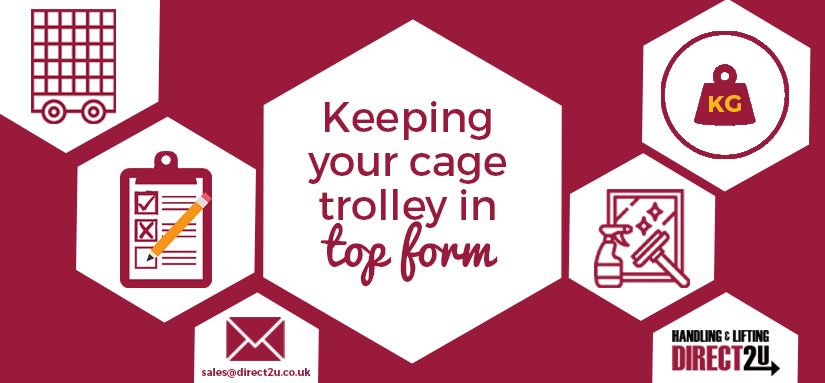 Cage trolleys are an essential product for any high demanding workplace. With cage trolleys, you can guarantee that your workplace will be in the best form possible in terms of productivity and work flow. At certain times with the use of cage trolleys, they may end up not fulfilling your needs. This may not be due to the cage trolley itself, but how the buyer is using and maintaining them.  Taking care of your cage trolley will help maintain the trolley for as long as possible and ensure maximum productivity.
Never exceed the load capacity
All cage trolleys have a designated load capacity. Some are designed for heavy duty use, and some are suited to more light weight usage. For example, at Workplace Products, we offer a Security A Frame Nestable Roll Pallets. They have a load capacity that can hold up to 600kg. However, it is important to note that even though the load capacity is high, cage trolleys are designed for specific workplace items and nothing else.
Ensure the trolley is maintained and clean
Firstly, keeping the cage trolley clean is the best way to ensure longevity. It also increases the quality and performance of the roll cage trolley. Our range of metal cage trolleys are designed to be easily cleaned with no complications. They are all powder coated with a durable zinc plated finish which increases the lifespan of the product due to the zinc creating a physical barrier protecting the shell of the trolley.
Check the cage trolley before use
Another key point to keep your cage trolley in top form is to check it before use. This will prevent any future damages from happening and therefore save you money in the long run! To get into the habit of regularly checking your trolley before use will ensure safe loading and no harmful damage to your workforce. In addition, most cage trolleys are set up in the same way so this will not take long at all.
Make use of the trolleys accessories!
Cage trolleys come as they are. They are very practical and simple, however, at Direct2u we offer specific accessories designed to increase the efficiency of the trolley. Firstly, we offer trolleys with extra shelves and sides. This is beneficial for workforces that need to carry and load multiple different items and need to keep them in a safe and secure storage place. We also offer Roll Cage Sacks which are ideal for waste collection when on the move. Finally, another key accessory is the Magnetic wrap around pockets. These are key for when workplaces need to be organised and display and protect certain documents.
Should you need any help with any Handling & Lifting questions and queries do not hesitate to contact our sales team via email or by phone on sales@direct2u.co.uk or 01922 715 130.