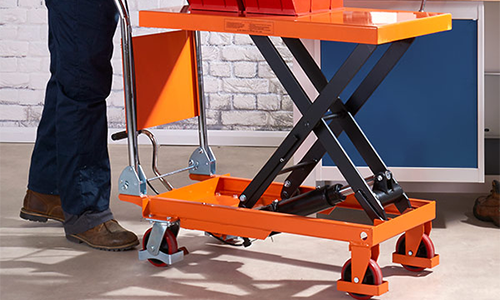 Our TUFF Mobile Scissor Lift Range
Price, quality and delivery are three things you will not have to worry about when shopping from our TUFF Mobile Scissor Lift range. What is particularly unique about our product is that it has the capability to hold numerous amounts of capacity. Up to 1000kg to be exact! This therefore enables you to lift carefree and let the lift do the lifting for you.
What is a TUFF Mobile Scissor Lift and why does ours stand out?
So, you may be asking, what are the TUFF Mobile Scissor Lifts all about and why would I need one? Well "TUFF" really does speak for itself. Durable, heavy duty and long lasting are just a few reasons why this range is the best of the best. Mobile Scissor Lifts are useful for lifting heavy equipment and they have the ability to increase of up to 1618mm in height. Storage is obviously an important factor to consider when purchasing this product, due to our foldable handle, you will have no trouble with trying to fit the Scissor Lift into any storage facility.
Benefits of using our a Mobile Scissor Lift range.
As mentioned previously, delivery is no trouble at all when shopping with us. Our Mobile Scissor Lift is available with a standard 3 day delivery option or next day delivery. You will have our product in NO time!
We know when using heavy duty products, injury is as the forefront of many peoples minds. So, our Mobile Scissor Lift is equipped with a back board to help load retention therefore protecting our customers.
Also, the rear castors of the product will have been fitted with brakes, making it simple to control and manoeuvre.
FAQs on our Mobile Scissor Lifts.
We understand it may be confusing for first time users to navigate the lift. Most of our Mobile Scissor Lifts are hydraulic, so use a foot pump to increase the height. In addition, to choose the correct capacity the product is able to hold, you will need to know the heaviest weight you wish to lift using the product. If you are still uncertain or have any additional general queries do not hesitate to contact our sales team who will be happy to help.