When designing a workbench, there are a few questions to consider whilst doing so.
What environment is the workbench going to be placed in?
Is my industry going to need any specific accessories?
What do I need on my workbench?
Workbench Environment
Some working environments will have specific requirements such as, do you need a packing bench?
Is your area static safe, do you need a ESD workbench top? Static can have serious effects in electronic environments and precautions must be taken to ensure that these effects do not occur.
If you have multiple workers at a desk would it be advantageous to have it height adjustable?
What Do I Need?
Rear support posts
Rear Support posts are a must when ordering above bench accessories, as the accessories need to attach to the posts. This makes them customisable and movable, to the requirements of the workplace.
Upper Shelf
Useful to keep frequently used items on top.
Service Ducts
Two types of service duct: post and worktop fitted, as the name suggested it's about placement. Either on the worktop or on the posts are the places they are usually fitted. On the worktop is useful for items that are in use and fitted to the post is useful for items that are charging.
Louvre Panel/Combi Panel
Keeping each individual tools and parts at their workstation will help to reduce time wasted by trying to find parts that they need. If working on an assembly line each individual has their own set of tools to do the job kept on the panel, an easy to reach location.
Coupled with perforated panel or pin board as a combi-board, is perfect for displaying blueprints off the bench.
Light
Useful whilst working with small parts so visibility is high in the workplace.
Arm mount
Usually fixed to one rear post with either a mounted computer monitor or tablet.
Light and tool support rail
Must purchase if purchasing a light as this holds the light. This rail can also hold tools that are regularly used with tool balancers for piece work.
Tool Rail
As described above; the rail holds tools which are regularly used with tool balancers.
What's on my Bench?­­
Extra heavy duty workbench designed with a carrying capacity of 100kg+, with a re enforced frame to limit the twisting movement of the bench. Making the bench durable and long lasting. The large drawers with anti-tilt system mean that high capacities are achieved without affecting the working of the bench. Due to the draws being the full height of the under bench, they not only help the stabilisation of the bench. But also, increase the drawer unit capacity as it it not attached and hanging from the bench.
Essentials
Rear support posts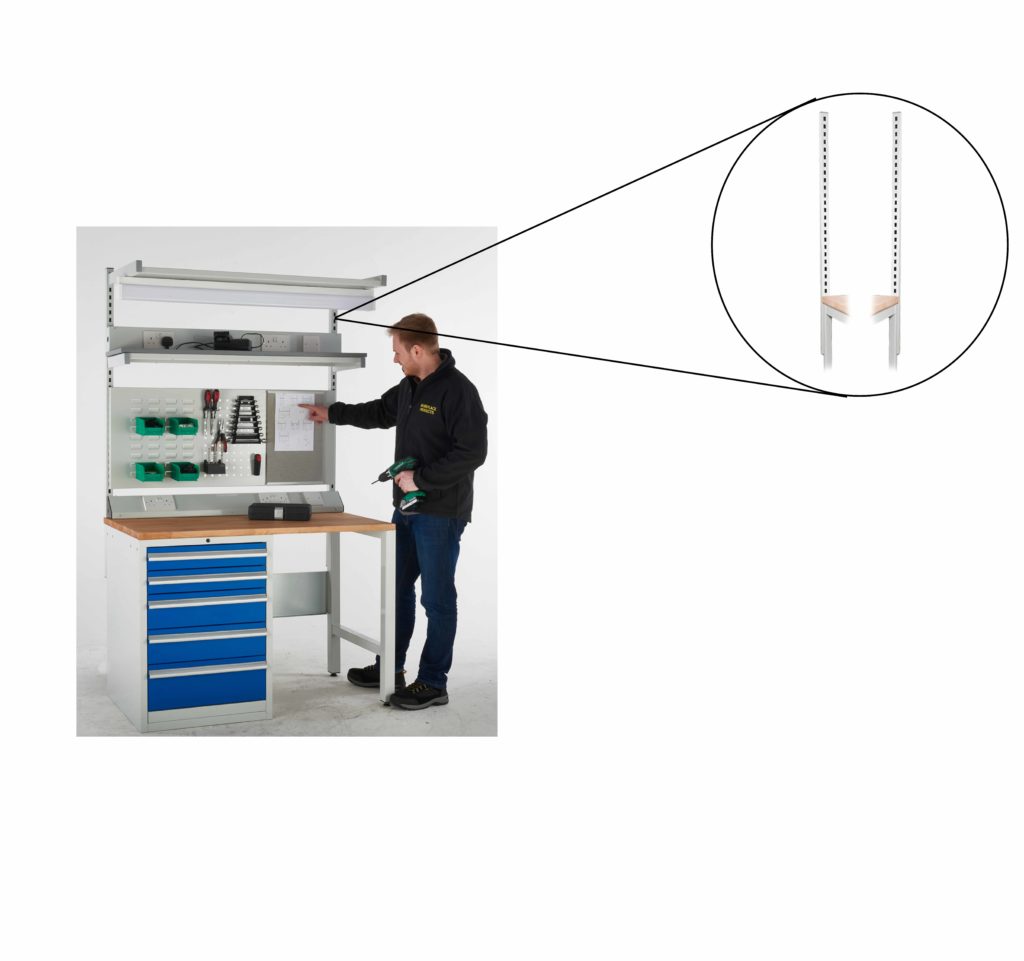 Upper Shelf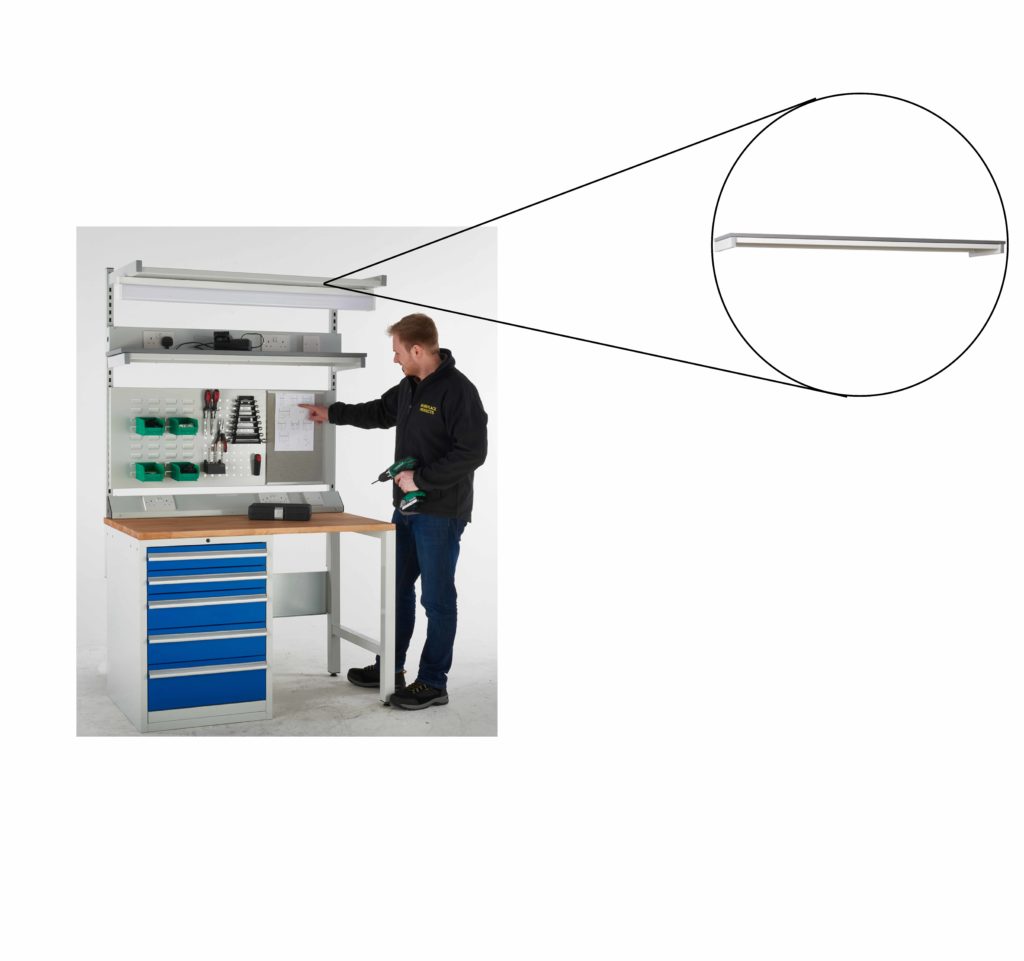 Service Ducts
Useful
Light
Light and tool support rail
Combi Panel
Each component is classified into essential and useful, to what we believe should be in each category, although each user is different and may find one component more essential then others.
Essential
Rear support posts – essential as these posts are needed if you want any above bench accessories. Accessories attach to these, consequently these are a must buy.
Service Ducts – essential as a central power source for tools and lights. Increases the look of your workbench as all cables are tidied away and do not look messy.
Upper Shelf – a useful place to store large tools or parts.
Useful
Combi panel – A central place to store tools and small parts in bins. Easy to reach so makes working ergonomic.
Light and tool support rail – Holds a light and tools on tool balancers for ease of use.
Light – Useful if low light or using small parts.
Workbenches Direct2U offer workbenches and accessories for all industries. Bespoke and limitless two words to describe the EuroSlide range, furthermore each workshop is unique. Direct2U is able to cater to all needs of the user. Please contact our sales team by phone call or live chat for more information today!!