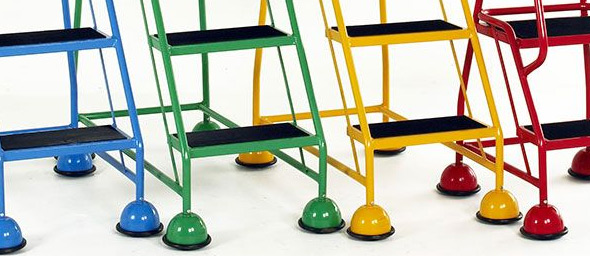 Working from height can be one of the safest methods of work or one of the most dangerous. This all depends on how you manage the situation between yourself and your team. Using the correct equipment and adhering to safety regulations can save lives. So, there are many variations of Warehouse Safety Steps to choose from. They all serve a common purpose; allowing the user to work with confidence.
Where would you need to use Safety Steps?

A common misconception is that safety equipment is only necessary in Warehouse environments. Yet, we should apply the safest methods of working into every industry. Reaching for something that is out of reach in an office that you could grab if you stood on a chair or footstool. This may be the easiest and fastest solution. Yet, your workplace has a responsibility to provide you with the correct equipment.
You should utilise Warehouse Steps and Ladders wherever necessary. This will ensure that you're working in the safety way possible. As well as ensuring the safety of others around you.
What kind of Warehouse Safety Steps are there?

There are all sorts of Safety steps to choose from. So, we've collated a list accommodated by brief descriptions to help you on your way. We also have examples of these products at the foot of this page;
Step Ladders & Platforms – compact but effective, used for those 'out of reach' moments
Mobile Steps – the most versatile steps. They allow the user to pick up and place where needed, handrails and many treads available
GS Approved Steps – Steps that are certified to EN 131 regulations
Heavy Duty Platforms – Ideal for heavy goods handling with up to 10 treads and sloping mechanism
Quick Folding Steps – sturdy, easy folding steps for fast paced environments
Mesh Treads and Anti-Slip Treads.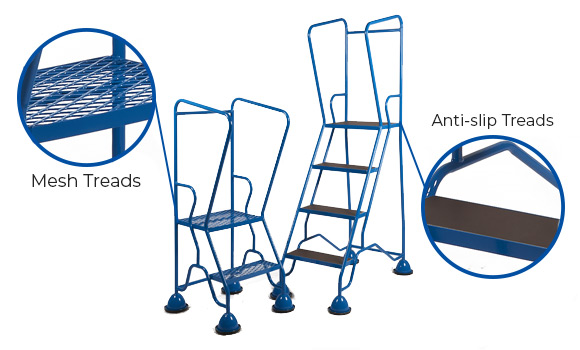 Why choose Mesh Treads?
Mesh treads for Warehouse Steps are excellent for general usage. They offer the support for each step and gives the user confidence in utilising them. Yet, they do not offer the user any anti-slip features.
Why choose Anti-slip Treads?
It's fair to consider these as an upgrade to mesh treads. Anti-slip treads offer the stability and great general usage support and much more. These steps can prevent slipping but will also help the user grip to the step more .
Explore our Warehouse Steps
For more details, look below at some of the options we have to offer. Each with a description, followed by necessary images to help you make the right choice.