Safety Barriers In The Workplace and Their Importance
Safety Barriers play a crucial role in protecting the work environment. Barriers safeguard personnel, machinery and infrastructure. We use them for many different purposes such as:
Restricting access to dangerous areas such as operating machinery,
Highlighting hazardous areas such as loading bays and walkways
Protecting people, equipment and infrastructure from moving vehicles (such as forklifts)
Where Are Barrier Systems Typically Used?
Barrier systems are generally used in any industrial environment, commercial space, airports, roadways and shopping centres. They are essential as they highlight hazards in an area. As well as highlight any risks to employees and the public.
Why Is It The Employers Responsibility to Install Barriers?
As an employer, it is your responsibility to protect the health and safety of your workforce. Providing a safe place to work and that premises are free of risk. The Health and Safety at Work Act 1974 places a legal duty on employers to ensure, so far as reasonably practicable, the health, safety, and welfare of employees and that they are kept safe.
Safety Barriers will also protect expensive equipment, vehicles and machinery in your workplace. As well as any building infrastructure.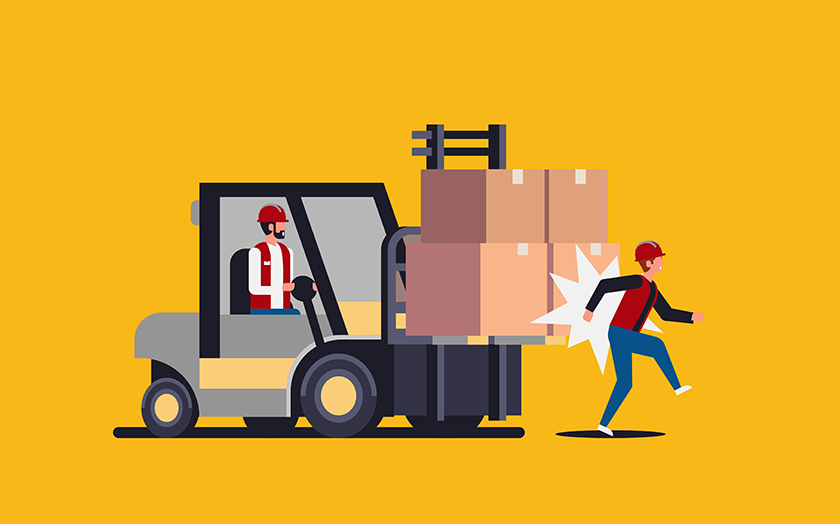 Different Types of Workplace Safety Barriers
Direct2U sell a wide range of Safety Barriers with FREE UK Delivery. We also specialise in large projects and installation. See our range of Safety Barriers below:
These Walkway Barriers protect personnel and equipment from hazards in the workplace. Such as forklift vehicles. These types of Barriers also protect the expensive machinery and building infrastructure. Warehouse Safety Barriers protect walkways and racking.
Impact protection is to protect exposed areas such as beams and columns. These are usually made from steel or foam. We use warehouse barriers to protect equipment and personnel. Designed to absorb the shock of the impact of the vehicle hitting them.
Also known as Guard Barriers, these types of safety barriers safeguard machinery. Also, ensuring the safety of employees. Typically in warehouses and factories. We also sell integral under-run guards to prevent damage at low levels.
Scissor Barriers are easy to transport to and from construction sites, or areas where vehicles are present. They are also practical to highlight out-of-service machinery. A lightweight and practical straight forward safety barrier.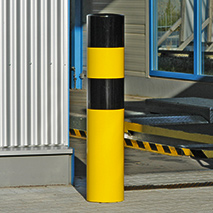 Suitable for both commercial and industrial environments. Safeguards valuable assets such as plant and machinery. They also highlight hazardous areas to employees and visitors. Such as shutter doors and loading bays in warehouses.
Guard barriers that protect the entire side of pallet racking and shelving. Usually found in warehouses, factories or distribution centres. Ideal if there is a high volume of traffic and forklifts. Workplaces also use them as machine guards.
Safety Barriers that are versatile and lightweight. Designed for quick and easy deployment on temporary work sites. Also, this Pedestrian Safety Barrier creates temporary walkways. Whilst building and construction work is being carried out.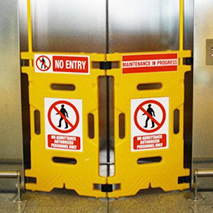 Bright-coloured Safety Barriers designed to bring attention to cordoned-off work areas. Where there is a risk of injury, spills and wet floors. Ideal Cleaning Barriers for entrances, hallways, elevators, washrooms and stairs. To provide caution and warning.
Ideal if you need to make a queue system or need to temporarily prevent access to an area. We use Retractable Safety Barriers in shops, banks, cinemas, airports and museums. Free-standing and wall-mountable designs are available.
Modular Lift Out Safety Barrier System
Our Modular Lift Out Safety Barrier enables you to create a unique barrier system by offering removable rails. This allows access to an area when required. Configure your barrier system by choosing your end, centre and corner posts. Warehouse Barrier with powder coated yellow with 'Germ Guard Active Technology Paint'. These barriers feature rails that you can remove to allow access to areas when required. CLICK HERE to view our website!
If you need further information or require a large project, please give our expert sales team a call on 01922 715 130. Or, Contact Us via our Live Chat Service.