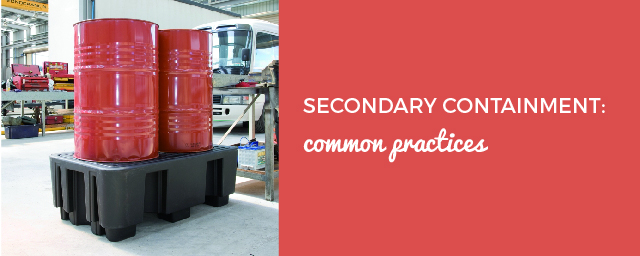 Containing hazardous liquids is essential in workplaces where water and land pollution is a possibility. Whereas spill response is what happens after spills happen, secondary containment is a preventive practice and is usually semi- or fully permanent. It is a secondary line of defence in the event of major hazards events. It serves as a prevention, control & mitigation method that is essential to comply with regulations. This blog post aims to cover the common techniques in secondary containment, focusing on physical containment forms. For more ways to implement secondary containment, visit the HSE website.
Concrete & Plastic Bunds
Bunds catch any leaks/spills from flammable or hazardous liquid storage tanks/drums. As a rule, incompatible materials should have separate bunds. Bunds should be able to contain 110% of the maximum capacity of the largest container. For example, if a container has a capacity of 2500L, the secondary containment should have a capacity of 2750L.
Bunds can be manufactured as part of a tank system, these are usually called 'pre-bunded' or 'integrally bunded'. Concrete or bricks-made bunds are more common. HSE does not mention any rules on the ratio between wall height and floor area for constructed bunds. However, low-height and high walled bunds both have pros and cons to consider. Low-height bunds might not prevent leaks, while high walled bunds might cause tanks to float as the bund fills.
Maintaining a bund is important to protect the integrity & effectiveness of the secondary containment method. Draining accumulated rainwater should be a daily practice, and the compatibility between the stored liquids and water is important. Adding a drain at a low point of a sloping floor with a manual valve effectively drains the bund.
All things considered, a more cost-effective and semi-permanent option would be portable plastic bunds. These come in high-visibility colours for added safety. Either way, bunds should be impermeable to oil and water.
---
Spill Trays & Sumps
Trays are more often common with equipment liable to have small leaks or spills. This prevents spills and leaks that would go unnoticed and that could result in major accidents later. Drip trays are usually chosen based on individual needs but can serve several containers. Sumps are larger versions of a tray and useful for drums and IBC storage. Unlike trays, they are relatively taller and more robust. Sumps and trays should have a capacity equal to or more than a quarter of the combined capacity of the containers they're holding.
They are usually in metal or hard plastic, or materials that are compatible with the stored liquids. Sometimes a grate may be installed to prevent the containers from touching the spilled liquids, and can facilitate drainage. This is usually done with absorbent materials after neutralisation or dilution. Unlike bunds, storing storage sumps and trays outside isn't feasible.
---
Spill Barriers & Drain Covers
During the transport of hazardous materials, spills might occur near drains. Avoid catastrophic spills that could pollute waters by simply placing drain covers or plugs. Most drain covers come with a super-sealing bottom layer creating a liquid-proof barrier. These are usually available as circular, rectangular, or square in shape. However, covers should overlap drains by at least 80mm.
For smaller spills, spill barriers can help divert liquids away from drains. Also called dikes, spill barriers are flexible plastic barriers that resist liquids and chemicals. Depending on the volume of spills, smoothness of surface and presence of vehicles, several spill barrier designs are available on the market.
---
Other techniques include off-gas treatment systems, interceptors, sumps, expansion systems. Other types include double skinned vessels and concentric pipes. For further information on these techniques, visit the HSE website. We recommend carrying out the correct risk assessments before purchasing any equipment for on-site usage.
Safety Direct2U is part of a network of specialised websites dedicated to providing workplace essentials to the rest of the UK. For business inquiries or more information on our services, please Live Chat with us today!
Sources: