At Direct2U we have a wide range of safety barriers to choose from. Below is further information to help you find the best for you! Safety is a vital role in the function of warehouses. Thus it's important to make sure you have the correct solution for the space available. This helps to prevent accidents when managed correctly. Below are the most popular types of barriers we offer and why they could be suitable for you.
Warehouse Barriers
Starting off with warehouse barriers, these are the most popular range we offer for use in warehouses and industrial environments. We have a large selection ranging from crash barriers to column protectors.
Column protectors work great in warehouses as they release air pressure to cushion any impact when hit. The yellow design is also highly visible to make sure they are seen clearly to protect vulnerable areas. They come in a number of different sizes and are suitable for indoor or outdoor use as they are UV stabilised.
One of the main benefits to the barriers in this range is they act as crash barriers, stopping accidents happening in fast paced environments, normally caused by forklift trucks. These protect items that are important or could be expensive. Such as racking, machinery and extra stock.
An example of the crash barriers are the Modular Lift Out Barrier Systems which are constructed of high quality steel. This design is perfect for most warehouses due to the modular design. The range includes different size options to make the system customisable to the environment.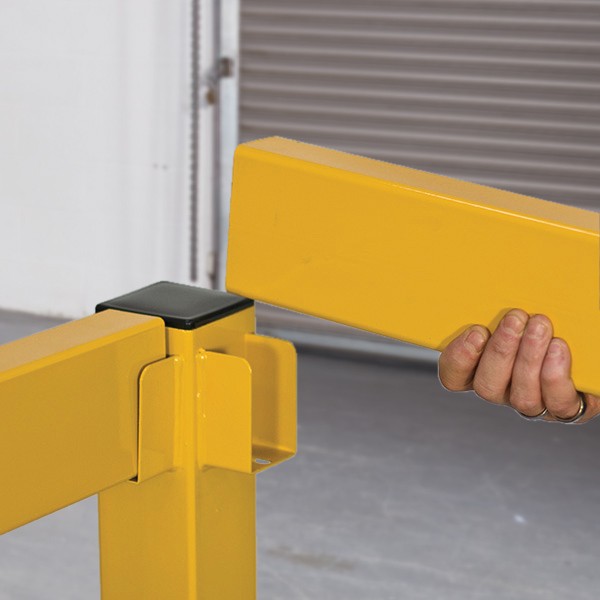 Impact Protection Barriers
In our impact protection range we have two types available. Either low level collision bars or foam protection. Both work well for protecting areas and preventing injury in the workplace. All the options within this category are easy to install and adjustable to fit requirements.
Our foam impact protection is a high grade polyurethane foam that fits into place to provide a durable option. The quick installation of these is also a bonus. Simply cut down to the length needed and apply to a smooth surface. The yellow and black finish means these are visible to spot easily and to warn of a potential hazard immediately.
The collision protection we offer comes in the form of low level bars, that are ground level and protect the area inside them once placed out. These are good for a factory that has a high volume of traffic going to one area. The low level of these blocks off the areas needed for forklift trucks. But also makes it easier to allow access to employees that are permitted.
Hoop Barriers
Our range of hoop barriers are to protect and ensure the safety of employees. Used to mark out walkways for employees to keep them safe. As well as stopping vehicles like forklift trucks causing damage to machinery that is valuable. The hoops come in a lot of different styles and sizes to cater to the needs of many.
We have standard bolt down guard barriers which are the most popular from this range as they are standard with the layout and high visibility colours. We also offer a removable option that can easily be relocated or moved if the area is needed to be accessed for a short period of time. Our flexible option is a unique guard that has shock absorbing pads that give up to 10 degrees when hit to reduce damages and the need to repair the guard or machinery.
Safety Bollard and Racking Protectors
The safety bollards we have available are suitable for commercial and industrial use. They can safe guard machinery and create safe work areas, walkways and traffic lanes. The posts can also show access points and loading bays. Either positioned individually or at intervals to suit the requirement. These are designed for heavy duty use, the steel is available in many colours but yellow and black are the most popular due to the high visibility it provides.
Our racking protectors are to ensure maximum safety in large warehouses. They are to protect large areas of pallet racking that could be knocked over with a forklift truck. If racking was to fall over it would cause a lot of damage and injury so it's an important item to use when vehicles are moving through warehouses. Anywhere with high volume traffic would benefit from a racking protector to stop costly damage and injury. All our protectors are manufactured from steel with a powder coat finish to ensure they are strong and durable. The bright yellow and black makes them easy to spot from a distance so they can be noticed. The install on these is quick and easy to make them ready for use immediately.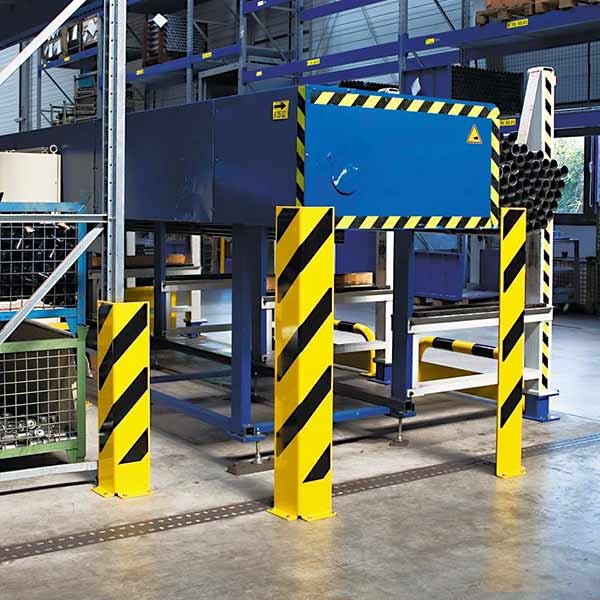 For any further information about the different types of barriers we offer. Then please get in touch via webchat, call or email. Or to view our previous safety blogs click here.