The 21 stages of the 2017 Tour can be broken down as follows: 9 flat stages, 5 hilly stages, 5 mountain stages and 2 individual time trials.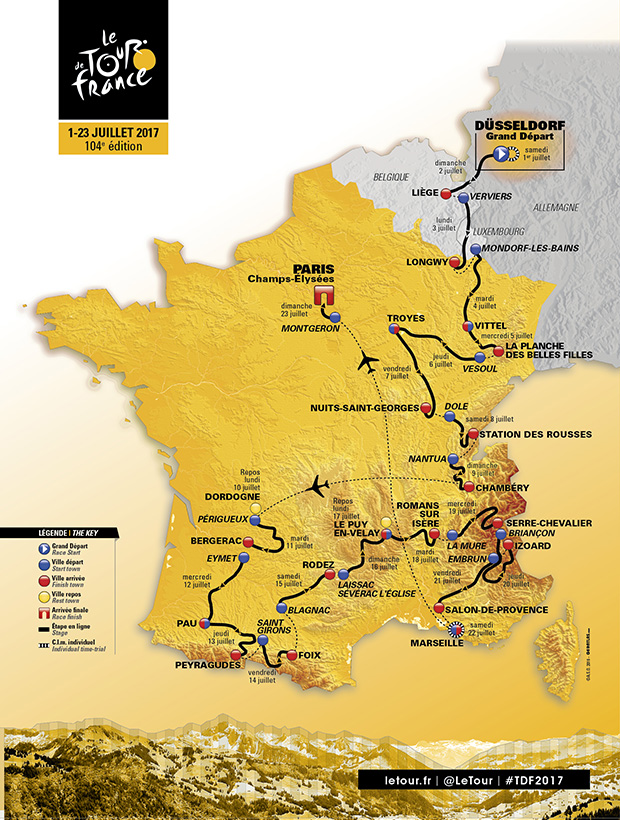 You may be mistaken into thinking that the Tour de France is a big road race from start to finish but it is far from it. There are many rules which must be adhered to; they are condensed as follows.
Participation
A maximum of 22 teams of 9 riders each will compete; with a total of 198 competitors at the starting line. Competitors are required to present themselves at the office for starting formalities for enrolment.
Identification
Riders must wear an easily seen plate showing their rider number on their bicycle as well as two bibs; worn on each hip. During an individual time-trial is taking place then one bib must be worn, placed in the middle of the back; well attached and not altered in any way. Bibs and plates will be provided by the organiser. It is strictly forbidden to make any changes to any official items
Authorised Types of Bicycles
Only standard cycles are allowed on straight stages. The use of specialised bicycles is allowed for time-trail stages if they comply with the provisions of articles 1.3001 to 1.3025 of the general rules of the UCI.
Technical Assistance
All riders may exchange small services to each other, such as lending or exchanging food, drink or accessories. However; lending or exchange of wheels and bicycles is only permitted between riders of the same team. Any technical assistance is only permitted behind the Peloton (right side of the road), whatever position the rider is in the race.
Wearing of Helmets
It is compulsory for riders to wear rigid helmets during the Tour de France, in strict compliance with the technical rules set by UCI. Riders wishing to put on or take off a waterproof over-garment must do so by dropping back to a level even with their teams assistance vehicles, behind the race director's car or that of the steward.
Race Offences
Slipstreaming or being pulled along by a motor vehicle, whether from the front, back or side including holding any other bicycle or vehicle is forbidden. The race stewards have the ability to exclude
any competitor doing so. Voluntary obstruction and unauthorised manoeuvres are forbidden and will be penalised. To ensure safety during sprints, rider who deviate from the line they have chosen with be subject to penalties.
The Route
Stage 1 sees the race beginning in Dussledorf; Germany. Moving into stage 2 and 3 will see the progression through Belgium and Luxemburg finishing stage 3 in France itself. The race will finish after many stages in Paris; Champs-Elysees.
Making a comeback, 5 of the main mountain ranges will appear in the route which hasn't been in the programme since 1992. The tour will visit: The Vosges, The Jura, The Pyrenees, The massif Central & The Alps.
Jerseys
Yellow – Worn by the best rider in the general ranking
Green – Worn by the leader of the point classification
Polka-Dot – Worn by the King of the Mountains (the best climber)
White – Worn by the best young rider
As Chris Froome returns to defend his title in the 104th Tour de France, team sky show a promising lead. Although currently (stage 15/16) Mollema rode to victory with just under 30km to go. Cycle Shelters Direct2U is part of a network of specialist websites committed to supplying you with high quality, competitively priced cycle shelters, cycle racks & stands and cycle compounds, which are delivered quickly and directly to you. With a vast range of cycle shelters and other products available we will provide you with a cycle parking solution to suit any requirement.