Depending on your industry, you will be required to handle harmful substances that could as a result pose a problem to your health and everyone around you. The Control of Substances Hazardous to Health (CoSHH) regulations help prevent and reduce employees' exposure to them. And yes, this applies to you even if you are self-employed!
What harmful substances does CoSHH cover?
CoSHH covers substances such as chemicals, fumes, dusts, vapours, mists, gases, nanotechnology, biological agents and germs that cause diseases. That's a long list, and probably covers some aspect of your industry. CoSHH does not, however, cover lead, asbestos or radioactive substances, as they have their own dedicated regulations.
If you are looking at Storage Cabinets, this means that you could not eliminate the need for hazardous substances, and are looking at control measures. Including CoSHH Cabinets, for example, in your plan helps reduce the risk of harm to low reasonable levels. Include ventilation, PPE, RPE and regular Health Checks in your plan. Lastly, make sure you have carried out a risk assessment beforehand as well!
How to determine which products I own are harmful substances?
Common household products that we use every day such as bleach, solvent or paint are 'dangerous for supply' and come with a Safety Data Sheet. However, please note that cosmetics, medicines and pesticides do not have safety data sheet. Contact your supplier, as they should advise you on how to use and store them.
What are common harmful substances in my industry?
Agriculture & Farming
Pesticides, Fungicides, Fertilisers, Feed additives, Medicines
---
Pest Control
Ant or roach killer, Flea killer, Rat poison, Pesticides, Fumigation materials
---
Automotive Engineering
Lubricants, Adhesives, Paints, Degreasing fluids, Braking fluids
---
Metallurgy & Welding
Cutting fluids, Metal splints
---
Catering & Food Production
Enzymes, Flavour concentrates
---
Beauty & Cosmetics
Perfumes, Fragrances, Dyes, Shampoos, Formaldehyde, Hair spray
---
Commercial Cleaning
Detergents, Antibacterial products, Disinfectants, Varnish, Lacquer
---
Which CoSHH Cabinet do I need?
All safety cabinets come in sizes big and small. Make sure you have assessed the amount of substances you will be dealing with on a daily basis. When you have determined the sizes, volumes and quantity of containers that need to be stored, take a look at our size guides. There are several types of storage solutions for harmful substances:
Hazardous Storage Cabinets
Painted in bright yellow, these safety cabinets contain a spill tray to contain spilled liquids and substances. They come with a 'Highly Flammable' sticker and you can use them to store gases, as well as aerosols, liquids and solids. A Reaction to Fire Classification EN 13501-1 ensures these cabinets are in addition flame-retardant.
---
CoSHH Cabinets
Grey CoSHH cabinets are perfect for the storage of 'Harmful' and 'Irritant' substances. These substances cause skin sensitisation, skin, lung and eye irritation. You can store toxic substances such as narcotics, and those hazardous to the ozone layer.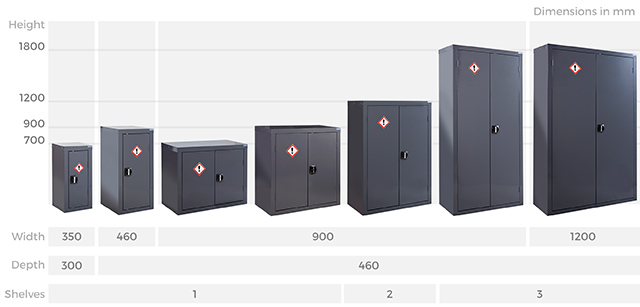 ---
Flammable Storage Cabinets
'Highly Flammable' substances can be stored in these Red cabinets. Designed to catch spills, they also ensure that flammable liquids, gases, solids and aerosols are safely stored.
---
Acid & Alkali Storage Cabinets
Highly visible, powder coated in white, these cabinets can store 'corrosive' materials that can cause severe burns and eye damage. Furthermore, made of acid resistant materials, these cabinets can handle substances corrosive to metals.
---
Agrochemical Storage Cabinets
These Red cabinets with louvred doors provide ventilation and are in addition powder coated with Germ Guard Active Technology paint. Carefully store products with fumes in a well-ventilated room.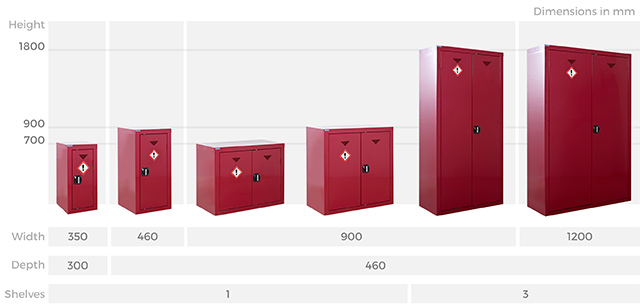 What if I am storing more than one type of harmful substance?
Remember the basic principles of chemical storage: segregate liquids and solid products, flammables from non-flammables.
Store flammable solvents away from doors and means of escape. You cannot keep more than 50 litres of flammable material at any time in a room. Make sure that you only have access to the amount that you require on a daily basis.
Never store flammable solvents with oxidising agents, reducing agents and concentrated acids. Segregate flammable solvents from any other type of chemicals as well, such as chlorinated solvents and oxidising substances. Avoid accidental mixing as much as possible, as these could lead to unforeseen reactions! Check with your supplier when in doubt.
---
For more information on how to choose the correct CoSHH cabinet for your application, live chat with us today! Our technical team will correspondingly advise you on the sizes and types of CoSHH cabinets we produce in-house.