Rubbermaid offer a huge range of cleaning carts which enhance the organisation, storing as well as transportation of cleaning supplies. Their smooth surfaces make them easy to clean with replaceable vinyl bags and non-marking castors. Cleaning carts keep your supplies organised whilst giving them mobility. Each cart has an optimum load to footprint ratio with large capacity and organisation for greater productivity. Additionally cost savings will occur.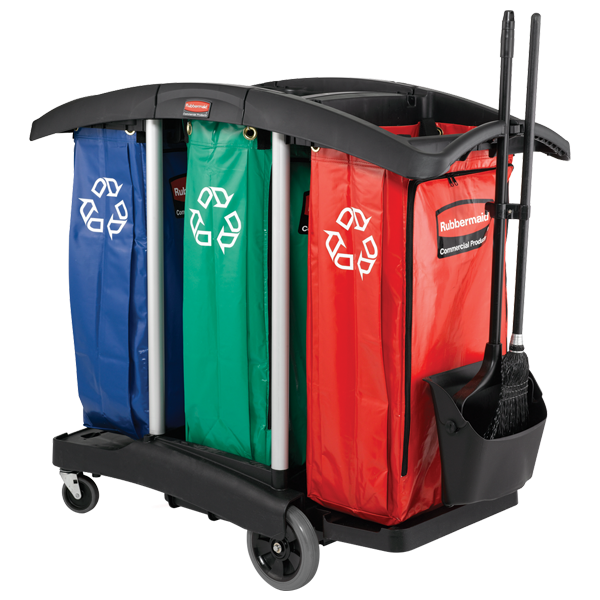 A housekeeping cart is very convenient for carrying laundry, clean linen and cleaning equipment. Each product by Rubbermaid is built with durability and functionality in mind; since being a house keeper is hard manual work; Rubbermaid have produced a range of products that will make the task a little easier. Direct2U offer a full range of carts to suit any task; these carts accommodate vacuums, laundry bags as well as compact folding designs. Each cart covers a range of features such as: handles for easy mobility, locking castors help to keep the cart still whilst in use when needed.
Advantages of Cleaning & Housekeeping Carts
Higher cleaning capability – all in the same place
Reduces work fatigue
Increases productivity
Highly maneuverable
Cart Accessories
Direct2U have recently added additional accessories to the website for you to be able to customise your carts for individual tasks. Cleaning and Housekeeping carts both have an updated range of accessories for you to enjoy and use, see below for the list of new accessories per cart. These accessories are now available to purchase through our safe & secure checkout.
Cleaning Carts
Vinyl Bags
Slim Jims
Brutes
Double Bag Holder
Compact Fabric replacement bag
Spray bottles
Disinfecting caddies
Colour coded buckets
Organising bixes
Sani duo
Security compartment
Wheel Kit
Triple bag waste holder
Pocket fabric organiser
Fabric Mesh Linen bag
Locking cabinet door
Recycling bag set
Laundry Net
Wavebrake
Combo bravo
Linen Cart
Vinyl Replacement Bag – zipped side
2 Locking Doors
Utility draw with lock
Protective security hood
Pocket fabric organiser
Fabric mesh linen bag
Organising boxes
Bungee kit
Triple waste bag holder
Locking cabinet kit
Slim jim
Waste cover & storage compartment
Vinyl bag
Security compartment