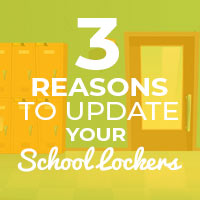 Another School year goes by – the halls and classrooms eerily empty for the summer once more. New students will arrive for the new term whilst others will say their goodbyes…could the same be said for your School Lockers?
We'll look at some of the reasons why a brand new set of Lockers can make all the difference. Not just for new students coming in, but for your staff and existing students that will be returning for the new School term.
Impress With School Lockers
Most students will have a very good idea of what to expect from the school they decide to attend during summer inductions . But there's a lot going on with so much to take in over a short 1 or 2 day period. However, it is the little things that make all the difference. Good quality Lockers can leave a lasting impression on children and parents visiting the school. The security of childrens' belongings is vital in any school environment.
Check the condition of your Lockers during the summer months and ensure they are functional. Broken or worn Lockers can potentially give the wrong impression to new and existing pupils. A brand new range of lockers, however, can contribute to reasons behind a school being selected or not.
Lockers That Last
We design our Lockers at Direct2U to stand the test of time. This is arguably the most important feature for Schools, Leisure Centres and other Educational institutes. They will endure the traffic they see year in, year out. As well as a solid steel construction, the paint work has an anti-bacterial powder coat finish. This drastically reduces the spread of germs around the school.
Keep it Fresh
How many years have you had your existing storage lockers? Would you like to change the colour scheme that you currently have? Our range of School Lockers come with the choice of size, colour and accessories. So, changing the look of your halls, classrooms and changing rooms can have a positive impact on students and staff members alike.
TUFF Lockers – 955mm
Ideal for Nurseries
Fitted with standard mastered cam lock with 2,000 differs as standard
1 Door lockers come with a top shelf
UK Manufactured
TUFF Lockers – 1380mm
Ideal for Primary & Secondary Schools
Fitted with standard mastered cam lock with 2,000 differs as standard
1 Door lockers come with a top shelf
UK Manufactured
Explore all Metal Lockers
As the UK's leading supplier of Lockers, we have an exceptional range for you to look through. Our Tablet & Phone Lockers have been a popular range for Colleges and Universities. Whilst our Fortis Plastic Lockers have been in high demand for outdoor environments.
Contact us here for more details on your requirements.